Do you often find yourself dreaming about having a
beautiful, straight smile that can light up a room? Are you content with the
alignment of your teeth? Many adults are unhappy with their teeth, and some are
even self-conscious about the image their teeth present. Generally, the go-to
option for correcting teeth alignment is traditional braces, but most adults do
not want to undergo the treatment. So, is there a way to straighten teeth
without traditional braces?
Smile by
Design
, located in Virginia Beach, VA, offers
Invisalign
, a customized alternative to
the metal appliances of regular braces.
What is Invisalign?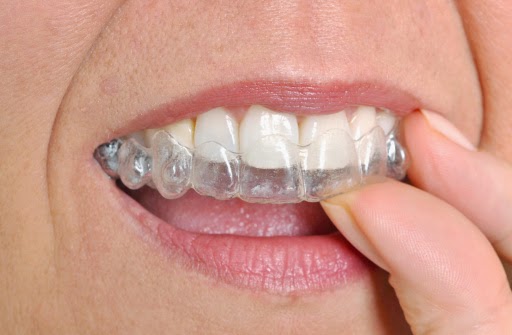 Our
doctors
,
caring professionals with years of experience, and their handpicked
team
of expert
practitioners are dedicated to helping every patient achieve their dental
goals. We understand that most adults do not wish to deal with the metal
brackets and wires of regular braces, as the tension in the wires can become
painful, and the look can seem juvenile. This is why we offer
Invisalign
, which are
clear, personalized aligners that fit around the teeth. These aligners are
removable, which allows you to continue eating your favorite foods, brush your
teeth, etc. Because the sets of aligners are clear, you can maintain a natural
look without worrying about people focusing on your treatment.
How Does It Work?
When you come in for an initial consultation, we will
examine your mouth and take 3D images of your teeth. We will plan your
treatment and send the images to a certified Invisalign laboratory. The
professional technicians in the lab will create your customized aligners, and
when finished, send them to us. When we receive the sets, we will have you
return to our office to pick them up. While you receive your aligners, we will
instruct you on which set to start with, how long to wear that set, which
aligners to switch to, and so on. Within 9-18 months, you will have a
beautiful, straight smile you will be proud to show off to the world.
Get the Smile of Your Dreams
If you are ready to finally achieve the smile you always
wanted, then it is time to ask our wonderful team about Invisalign.
Contact us
today and
schedule your consultation. We are happy to provide our treatment to those who
live in Virginia Beach, Norfolk, Portsmouth, Chesapeake, and the surrounding
communities.