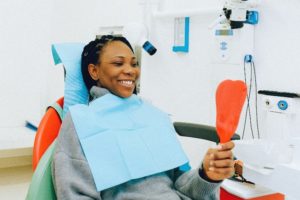 Believe it or not, 2021 is already here. As you resume your daily activities after the holidays, your schedule is filling up quickly. The last thing on your mind is visiting your dentist for a dental checkup in Virginia Beach. Although you have all year for a cleaning and checkup, there are several advantages to seeing your dentist early. Here are 5 reasons to keep a preventive visit at the top of your priority list.
1. Your dental benefits have been reinstated.
Your dental insurance is a monthly investment that's designed to provide discounted rates for the services your teeth and gums need to stay healthy. At the end of the calendar year, your policy expires. Thankfully, by renewing your plan, your benefits are reinstated in January, which means you can enjoy the affordable care you need to maintain optimal oral health.
2. Lower your overall dental expenses.
Dentistry focuses on prevention because research shows routine visits can stop many common oral health issues from occurring, like tooth decay and gum disease. As a result, you lessen the need for a costly treatment down the road. For every $1 spent on prevention, you can save $50 on restorative services. The American Dental Association recommends visiting your dentist at least twice a year for a cleaning and checkup to preserve your smile.
3. Maximize your dental insurance benefits.
Less than 3% of Americans reach their annual limits each year. Unfortunately, you aren't reimbursed for any coverage you don't use, and nothing will carry over to accumulate into the next year. You could lose hundreds to thousands of dollars each year. Visiting your dentist in Virginia Beach shortly after the holidays gives you more time to use your benefits to make the most of what you've paid into over the months.
4. Reduce your risk of a dental emergency.
1 in 6 people has a dental emergency each year, which results in about 16% of the population missing work annually. Although you can't fully avoid one, you can lessen your risk of an unexpected oral health issue by seeing your dentist. They'll monitor your dental health to detect any concerns while they are still small to provide the appropriate intervention to prevent them from turning into a big problem down the road.
5. Invest in a healthy, beautiful smile.
Research shows the appearance of your teeth can directly influence your self-esteem. You can start the new year looking and feeling your best with a cleaning and checkup. You'll achieve the healthy, beautiful smile you deserve to put your best foot forward in 2021.
While your schedule may be a bit busier, commit to seeing your dentist early in the year. They'll help you maximize your dental insurance to invest in lasting oral health.
About Dr. Vinita Folck
Dr. Folck earned her dental degree from the University of Texas Health Science Center at San Antonio. She is a proud member of the American Dental Association. Dr. Folck works with many insurance carriers to keep her services affordable. If it's time for your next preventive visit, contact our office today to schedule an appointment.