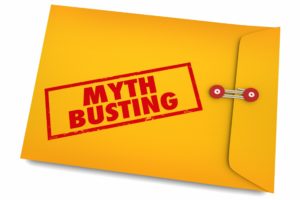 If you're unhappy with the appearance of your teeth, your cosmetic dentist can help you achieve the picture-perfect smile you desire. Although you would love to transform your teeth, you may not believe it's an option for you. There are many cosmetic dentistry myths, but don't let common misconceptions deter you from improving your confidence. Here are the facts you need to attain your dream smile.
1. Myth: The procedures only offer cosmetic benefits.
Fact: Believe it or not, cosmetic and restorative dentistry often overlap. While cosmetic procedures are designed to enhance the aesthetics of the teeth, there are several treatments that also provide restorative benefits, like direct bonding and all-ceramic crowns. Not to mention, correcting certain cosmetic issues can also improve your oral health, like fixing alignment concerns or repairing a damaged tooth. Overall cosmetic dentistry is an investment in your oral health and self-esteem to give you a beautiful, healthy smile.
2. Myth: Cosmetic dentistry is expensive.
Fact: Cosmetic procedures are considered elective; therefore, they aren't often covered under dental insurance plans, but there are some exceptions. Since many cosmetic treatments can also be used for restorative purposes, you may be able to use your dental benefits to offset the amount you need to pay. Besides using your coverage, your cosmetic dentist in Virginia Beach will accept several payment methods, like third-party financing, so people from all walks of life can improve their smiles. You'll have the affordable solutions you need to revamp your teeth without breaking the bank.
3. Myth: Cosmetic dentistry damages your teeth.
Fact: Cosmetic dentistry will not damage your teeth when the treatments are performed by a qualified dentist in Virginia Beach. It's true, there are some procedures that will permanently alter your teeth, like veneers or crowns, but they will remain strong and healthy with the right aftercare, like maintaining your oral hygiene.
4. Myth: The results will look fake.
Fact: The dental field is always evolving to provide more options than ever to achieve the exact results you want. New techniques, technologies, and materials allow you to enjoy solutions that look natural. No one will be able to tell you've had any dental work performed, so you can chew, speak, and smile confidently.
5. Myth: Teeth whitening will damage my enamel.
Fact: Teeth whitening is a great way to turn back time to reveal a brighter smile. Contrary to what you might have heard, a professional whitening treatment will not damage your enamel. The whitening agents are carefully formulated to combat discoloration without harming the health or integrity of your teeth.
Invest in a Beautiful Smile
Don't let rumors prevent you from enjoying a beautiful smile. Your cosmetic dentist will answer all your questions and ease your concerns, so you can feel confident about the road ahead.
About Dr. Vinita Folck
Dr. Folck earned her dental degree from the University of Texas Health Science Center at San Antonio. She is a member of many professional organizations, including the American Dental Association and the Spear Study Club. You can rest assured your smile is in good hands. If you're interested in cosmetic dentistry, contact our office today to schedule your consultation.