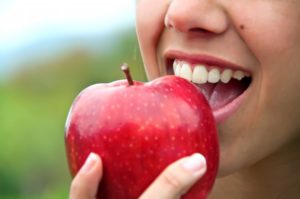 Taking care of your smile is not only important for your appearance, but it's important for your health, too. Dental issues like decay and gum disease are linked to increased risk of diabetes, stroke, cardiovascular disease, and more. You may be already brushing and flossing, but did you know that your diet can affect the health of your teeth and gums? Keep reading to discover 5 foods that are surprisingly good for your oral health from a family dentist in Virginia Beach.
#1: Apples
An apple a day keeps the cavities away! Well, not exactly. There's no substitute for a good brushing and flossing routine, but apples are great fruits to eat. They're not only good for your overall health, but they contain a lot of fiber. This stimulates your saliva flow, naturally washing away plaque and bacteria that cause cavities.
#2: Yogurt
Dairy, specifically Greek or non-fat yogurt, is full of probiotics. These can help improve your digestion, but they can also help with bad breath and fight cavities! The best part is that yogurt is rich in calcium, which keeps your teeth and jawbone strong and healthy.
#3: Leafy Greens
You may have been told to eat your greens when you were growing up, but you probably didn't know that these veggies are good for your teeth too. Leafy greens like kale, collard greens, spinach, and mustard greens are filled with vitamins and minerals that keep your teeth strong. Surprisingly, they also contain calcium, which can help strengthen your tooth enamel.
#4: Carrots
Carrots, like apples, are high in fiber that helps strengthen your teeth as you eat them. They also stimulate saliva flow to wash away bacteria that causes dental issues like gum disease. Plus, carrots are full of vitamin A, which helps keep your body and teeth strong.
#5: Strawberries
Strawberries are possibly the most surprising food that's good for your teeth because they taste so good! They contain vitamin C, which helps reduce inflammation in your gums and fights gum disease. They are also full of antioxidants that fight cavity and gum disease-causing bacteria. A little side bonus is that they contain malic acid, which some say has the ability to make your teeth whiter.
There are many other foods that are good for your teeth, but these are some of the most beneficial. Especially if you struggle with tooth decay or gum disease, your dentist in Virginia Beach says to substitute some of these foods into your diet to better take care of your oral health. Next time you want some candy, you can reach for some delicious apples or almonds instead—your teeth will thank you!
About the Practice
Dr. Stephanie L. Santos and Dr. Vinita J. Folck are a team of dentists who love providing quality care. They believe in patient education, which is why they want you to know some tooth-friendly foods to keep your smile healthy. They currently practice at Smile by Design, and they can be contacted through their website or by phone at (757) 499-9639 for any questions.