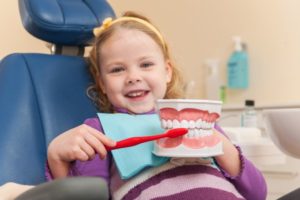 Does your child try to skip out on doing the basics like brushing and flossing? It's almost scary to wonder if they'll ever grow out of not caring for their oral hygiene. As a parent, all you want is a happy and healthy future for your loved one. Your family dentist in Virginia Beach can ease a little bit of that burden by providing you with essential habits to add to your child's oral routine, and small ways to make dental hygiene a positive and exciting part of their day.
Establish the Basics
You probably make sure your child brushes their teeth every morning and night. But there are other essential activities you should incorporate into their daily routines to make sure they protect themselves from developing cavities and gum disease:
Floss between your teeth at least once a day.
Use mouthwash after brushing. There are many out there, so it's a great idea to have your dentist recommend one that is antibacterial and gentle for younger smiles.
Brush or scrape your tongue every time you brush your teeth to ensure you don't develop bad breath.
These are all essential to their daily health and can help them maintain their best smile.
The Importance of Semi-Annual Dentist Cleanings
Even if your child's first tooth just came in, it's still important to take them to the dentist for their semi-annual checkup. Not only does this keep you up to date on the status of your child's oral health, but it also helps to build a positive relationship between your child, their dental routines and their dentist.
It's important to not wait until something noticeable is wrong to go to the dentist. If you're proactive and keep up with their checkups, it can be the answer to keeping a small problem like a cavity from turning into a big one, like an infection. In the long run, this can save you significant amounts of time and money and can drastically lower your child's need for any kind of extensive treatments.
Making Oral Hygiene Fun
Although the basics are simple tasks, from a child's perspective, they can be tedious and the one thing that's keeping them from playing outside with their friends. That's why it's always a good idea to develop fun ways to make these tasks a little more enjoyable. There are quite a few oral hygiene products for kids that you could find online or at your local grocery store that would help create a positive association for your child and their dental health:
If your child refuses to brush their teeth, you could get finger puppet toothbrushes that are colorful and exciting.
Flossing regularly can significantly improve your child's health and is an effective way to remove debris from between teeth. Instead of the regular, difficult to use string of floss, there are miniature nunchuck-shaped flossers that comes with fun things like trading cards.
An exciting toothbrush holder could be the one thing that's encouraging your child to reach for what's inside it, so it may be a good idea to get one that talks and coaches your child as they're brushing. Alternatively you could just get one with their favorite pattern or characters on it.
While these are some good ways to spice up your child's routine, it is still important to remember to schedule your semi-annual cleanings at your dentist in Virginia Beach. As a parent, ensuring that your child is healthy is the ultimate goal, so start with a strong foundation of good oral habits.
About the Practice
The most important goal for our dentists at Smile by Design is to offer the compassionate care that brings patients through our doors. Helping a child achieve their beautiful smile and also enjoy their visit is a challenge that we're ready to take on. We want to establish true connections with you and your family while also providing you with unmatched dental care. If you have any questions about scheduling your semi-annual checkups please visit our website or contact us at (757) 499-9639.