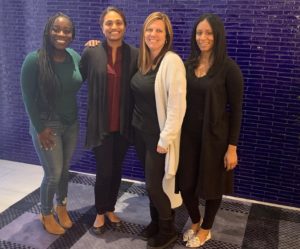 We pride ourselves on providing a broad range of high-quality services to our patients. Although we sometimes make referrals to nearby practices, our goal is to do so as infrequently as possible. That is why our dentists, Drs. Santos and Folck, are always striving to expand their skillsets. One of the ways in which they have done so is via training for Invisalign in Virginia Beach. Both of them are certified to provide this innovative, comfortable, and convenient orthodontic treatment. Let's talk about how their certification can benefit you.
How Does a Dentist Become Invisalign Certified?
Before a dentist can provide Invisalign treatment, they must complete a brief training course. They receive instruction that helps them understand how the Invisalign system works and how they can make the treatment a success or their patients. Afterward, they have access to personalized post-training support from an Invisalign pro. This team-based approach to treatment plays a big role in ensuring that patients receive the care and attention they deserve at every phase of their orthodontic journey.
How You Can Benefit
If you are thinking about getting orthodontic treatment to straighten your teeth, you might not need to visit an orthodontist. After Dr. Folck or Dr. Santos evaluates your oral health and the degree of your dental misalignment, they will let you know if you are a candidate for Invisalign. If you are, you'll be able to enjoy your journey to a well-aligned smile right here with our friendly, professional dental team that can provide for virtually all of your oral health needs.
Here are a few more specific benefits that you can expect to enjoy when you visit us for Invisalign:
Convenient and discreet treatment. The aligners are virtually unnoticeable, and their removable nature makes them much more convenient than traditional metal braces.
Brief checkup appointments. Throughout your treatment journey, you will visit us for brief checkups. Usually, these appointments are short enough to be completed during your lunch break!
Easy troubleshooting. If you accidentally lose or damage an aligner, or if you ever have any questions about your treatment, we are only a phone call away. We will give you personalized guidance on how to cope with mishaps and make your treatment as easy as possible.
Convenient payment options. We are an insurance-friendly practice. If your policy covers orthodontics, we will be more than happy to file a claim for you to reduce your out of pocket cost for Invisalign. We can also help you apply for financing if necessary.
You don't have to go searching all over town to find a dentist in Virginia Beach who can help you achieve straighter, more attractive teeth. Drs. Santos and Folck are right here and are ready to get you started on the path to your dream smile.
More About Us
At Smile by Design, we are committed to providing our patients with comprehensive, high-quality dentistry in a comfortable environment. Our doctors' extensive training, along with the state-of-the-art technology in our office and our friendly approach to care, have earned us dozens of glowing reviews. If you are interested in learning more about our practice, Invisalign, or any of the other services we offer, contact us at 757-499-9639.