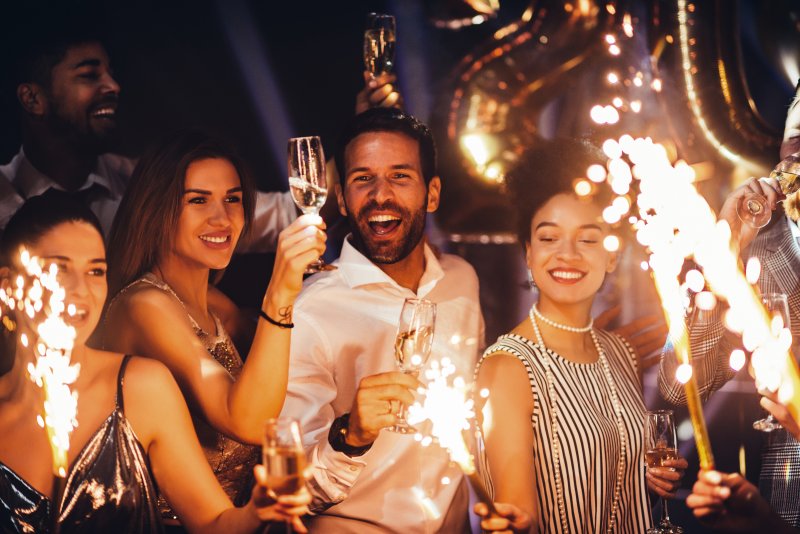 Not only is a new year here, but so is a new decade! If you are excited about 2020, you're probably already thinking about the new year resolutions you'll want to fulfil! While many people might be thinking about saving money, losing weight, or spending more time with the family, it's worth taking a second look at your smile. If you have multiple imperfections that make it hard to show it off, even around friends and family, the new year is the perfect time to consider dental implants, porcelain veneers and Invisalign in Virginia Beach!
Restore More Than Your Smile with Dental Implants
When you have missing teeth, your appearance is far from the only thing taking a blow in the new year. The fact is the bone supporting your jaw will begin to break down because it's not being stimulated by a tooth root. Furthermore, your existing teeth are at higher risk of breaking down and falling out with every tooth you lose. Thankfully, you don't have to settle for tooth loss when you have dental implants.
Not only do dental implants replace the root, but they effectively prevent bone from deteriorating inside your jaw and even restore its biting force to new levels! If you're looking for a great way to start the new year, especially if your resolution includes keeping a balanced diet, dental implants can make it possible.
Fill the Gaps With Invisalign Clear Aligners
Even if you don't have any missing teeth, you may still have gaps in your smile as a result of misalignment or because of a relapse from a previous orthodontic treatment. It's very important that you wear your retainer following the removal of braces as failing to do so can cause teeth to shift back. Whether this was the cause or not, gapped and misaligned teeth do not necessarily require metal braces to treat.
With Invisalign clear aligners, both teens and adults alike can start the new year with crooked teeth and an uneven bite and finish it with a straighter, beautiful and healthier smile! Most treatments take between 6 and 12 months, so if you want your smile to be transformed by the end of the year, now is the time to start!
Transform Your Appearance with Durable Porcelain Veneers
If you want to have a transformed smile right away and don't want to wait months just to make it happen, you'll be thrilled to learn that porcelain veneers only take two appointments to complete. After completing a consultation with the dentist, they can create a series of ultra-thin, ceramic sheaths that cover your entire tooth. Permanent stains, chips, cracks, and gaps don't stand a chance against personalized and color-matched porcelain veneers!
With the new year in full swing, your smile and oral health deserve a full-blown makeover. To get started planning your next restorative/cosmetic treatment, give a dentist a call today!
About Smile by Design VA
Dr. Stephanie L. Santos and Dr. Vinita J. Folck are incredibly happy to be providing patients transformative dental treatments designed to make your smile look truly breathtaking. Whether you need dental implants, Invisalign or porcelain veneers, they can make sure your smile transformation goes exactly the way you want it to. To schedule your next appointment, you can contact them through their website.