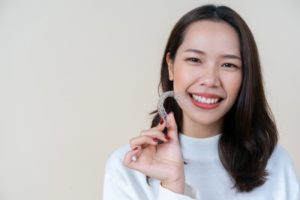 Invisalign in Virginia Beach is a great way to discreetly straighten your teeth because the aligners are removable. Unfortunately, because they can be taken out, it's all too easy to set them down somewhere and forget about them. Don't panic if you lose your trays. Your dentist has put together this handy guide for what to do if you accidentally misplace one or both of your aligners.
What Should You Do First?
First and foremost, contact your dentist in Virginia Beach and let them know what happened. Don't worry, they won't be mad at you. This situation is actually a lot more common that you might think. Your dentist will try to get you in to see them as soon as possible to solve your problem.
Will Your Treatment Take Longer?
As long as you let your dentist know right away, your treatment should still be completed in a timely manner. You may have to wait a couple weeks for your new aligner to be shipped to you, so treatment may be set back by that amount of time. However, that's a much better option than having to wear your aligners for several extra weeks or even months by not alerting your dentist to the situation.
Should You Move on to the Next Set of Aligners?
It can be tempting to not tell anyone about losing your aligner and simply skip to the next set in the series. This can actually do more harm than good. Each set of aligners is designed to adjust a tiny portion of your smile, so moving on before one set is finished may compromise your treatment. Before you skip a set, ask your dentist if it's alright. If you were close enough to moving on anyway, the dentist might say go ahead, but if not, you might have to wait for your replacement aligners to come in the mail to complete your treatment the way it was intended.
How Can You Keep from Misplacing Your Aligners?
The easiest way to prevent losing your aligners is to wear them as much as possible. For treatment to be finished on time, keep them in for at least 20 to 22 hours a day. When you take them out to eat, drink, and clean your teeth, keep track of where you place them. If it helps, take a picture of where they are or write a note with your phone.
It isn't the end of the world if you misplace an Invisalign aligner. However, you should still let your dentist know of anything that you jeopardize your future straight smile.
About the Practice
At Smile by Design, we take the time to get to know our patients so we can come up with a personalized treatment plan that comfortably meets your needs. Our doctors are certified to provide you with Invisalign to give you the straight smile you deserve. If you're interested in Invisalign, contact the dentists here or call (757) 499-9639.