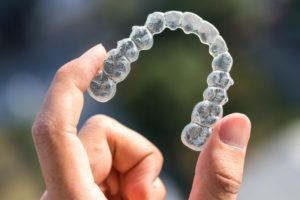 You've been told you need orthodontic treatment but have avoided starting it because of the hassle of braces. You don't want to change your diet, oral hygiene routine or appearance for the treatment. Luckily for you, Invisalign offers an invisible and flexible orthodontic solution. In this post, your dentist will explain what makes someone a good candidate for Invisalign in Virginia Beach.
Is Invisalign Right for Me?
There are multiple factors to consider when choosing your preferred method of orthodontic treatment. Review the following to see if Invisalign is right for you.
Age
Teens and adults are best suited for Invisalign. This is because the aligners work best when the patient has lost almost all, if not all, of their primary teeth. An effective treatment also depends on the maturity and self-discipline of the patient, as they need to make sure to wear their aligners for the recommended 20-22 hours a day.
Orthodontic Needs
Invisalign successfully addresses mild to moderate bite issues, crooked teeth and crowded mouths. Unfortunately, it may not be an option with more complex orthodontic cases. This includes extreme overcrowding and issues involving back teeth, bridgework and tooth rotation.
Oral Health
You will need good oral health to start the Invisalign treatment. Those with active gum disease or cavities should be treated prior to moving forward with Invisalign or should consider using traditional braces.
Cost
Invisalign is often a bit more expensive than traditional braces. The average cost is between $3,500 to $8,000, while metal braces range from $2,500 to $6,000. However, Invisalign treatment is usually faster. It also offers the unique advantages of a discreet treatment that doesn't require you to change your diet or oral hygiene routine.
How Exactly Does Invisalign Work?
Invisalign utilizes custom-made, clear aligner trays. Patients wear Invisalign over their teeth for 20-22 hours a day to guide them towards the ideal position. There are multiple benefits of Invisalign, most notably it's virtually invisible look. Because the trays are removable, patients can also clean their teeth without the obstruction of braces and don't have to change their diets during treatment. Invisalign is also more comfortable because, unlike braces, it won't cut the inside of your mouth nor does it require uncomfortable tightening procedures.
Requiring orthodontic treatment may seem daunting, but braces aren't your only option. Invisalign can help fix your smile without requiring you to make drastic lifestyle or appearance changes. Talk to your dentist in Virginia Beach today to determine if you're a good candidate for Invisalign.
About the Author
Dr. Vinita Folck strives to make every visit to her office a pleasant experience. She has over 14 years of dental experience. If you have further questions about Invisalign, she can be reached through her website or at 757-499-9639.