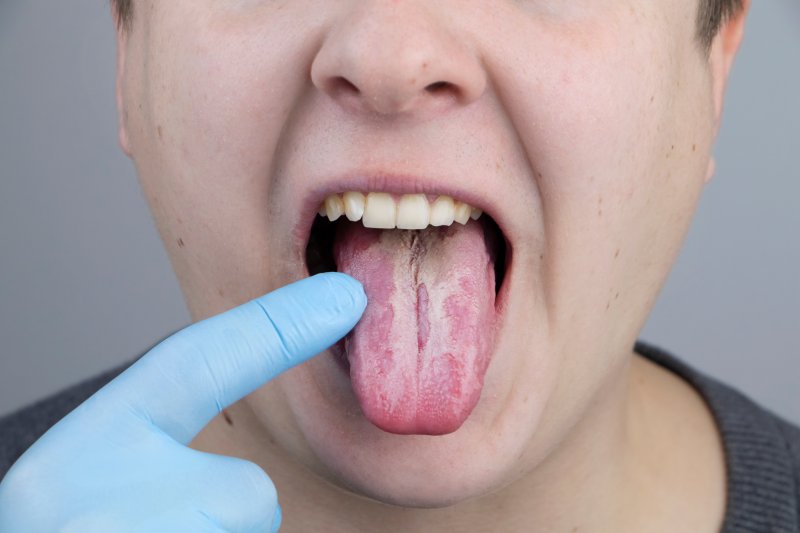 Every once in a while, you might notice a white film in your mouth. This sticky layer of gunk is a telltale sign of oral thrush – an unpleasant problem, to say the least. That said, you might not know how best to respond to the dilemma. It may be your first time facing the sticky issue. Luckily, you can count on your Virginia Beach dentist for help. To that end, here's a summary of oral thrush, how to recognize it, and what you can do to manage it.
What Exactly is Oral Thrush?
Simply put, oral thrush is a fungal infection that can grow in your mouth or throat. It's commonly found in infants and toddlers, though adults can also get it.
Regarding cause, oral thrush stems from an overgrowth of the fungus Candida albicans (C. albicans). This growth, in turn, occurs when your immune system is compromised or the microorganisms in your body are disrupted. For example, certain antibiotics can diminish the helpful bacteria in your body. Cancer treatments – chemotherapy, radiation therapy, etc. – can also damage or kill healthy cells.
How Do You Recognize It?
At first, it's tricky to know whether your mouth issue is thrush. The condition's early stages often don't show any symptoms. Still, signs do develop as thrush worsens. Therefore, you should keep an eye out for the following:
A white, cheese-like coating on your tongue
Redness, burning, or soreness
A shift in your ability to taste
Cracking in your tongue or the corners of your lips
A dry, cottony, or sandpaper-like feeling.
How Do You Manage It?
Fortunately, thrush typically fades on its own; most cases end after three or four weeks. However, there are ways to treat and manage the infection.
Normally, the most effective solution is antifungal medicines. These often come in topical gels or liquids you apply directly to your mouth. When used, they should be applied several times daily for 7-14 days.
On the other hand, home remedies can also keep thrush in check. Salt-water rinses, for starters, can help soothe and cleanse your mouth. Eating probiotic yogurt will also halt thrush growth.
Ultimately, you should pay attention when a white film in your mouth occurs. Doing so lets you recognize and manage oral thrush as it happens.
About the Practice
Smile by Design is based in Virginia Beach, VA. Led by its experienced trio of dentists, our practice strives to provide patients with positive, comfortable dentistry. To that end, we perform preventive, cosmetic, and restorative services tailored to your smile. You can also count on us for emergency dental procedures like root canal therapy. If you'd like to learn more or to book a visit, reach us on our website or by phone at (757)-499-9639.