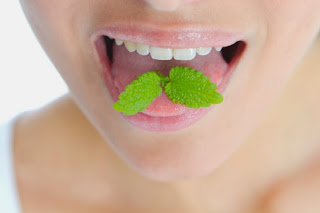 More commonly known as bad breath, halitosis is a condition
that affects approximately 80 million people on a daily basis. Sufferers of
chronic
halitosis
find that their
condition negatively impacts their daily lives, leading to embarrassing social
interactions and extreme self-consciousness. At
Smile by Design
in
Virginia Beach, VA
,
Dr. Santos
and Dr. Folck
offer a comprehensive range of general and
family
dentistry services
, including diagnosis and management of
chronic bad breath.
Causes and
Treatment for Bad Breath
While nearly everyone experiences bad breath after consuming certain foods – including onions,
garlic, and dairy products – chronic
halitosis is caused by accumulation of volatile sulfur compounds, or VSCs,
on the tongue near the back of the mouth. These compounds are the result of
countless bacteria in the mouth and can often be difficult to eliminate with
regular home hygiene. If periodontal disease (a common cause of bad breath) is present, the infection
must be treated in order to prevent further gum damage. Our doctors offer
customized periodontal therapy treatment
plans to help patients suffering from this common condition, thereby improving
their oral health and stopping halitosis
in its tracks.
Chronic
halitosis is most effectively treated at your dentist's office, but
there are some things you can do at home until you are able to schedule an
appointment at Smile by Design. Brush
and floss at least twice per day, and rinse with an antibacterial mouthwash
each time. Use a tongue scraper to remove as much bacterial buildup as
possible, and try to stay hydrated by drinking plenty of water throughout the
day. Sugar-free gums and mints can help to alleviate bad breath following snacks and meals. Drs. Santos and Folck are happy to discuss your concerns and
expectations regarding treatment so that we can develop a plan that best suits
your needs and lifestyle.
Schedule
Your Visit Today
Don't spend even one more day worrying that your persistent
bad breath
is noticeable or offensive
to others.
Contact our
office
in
Virginia Beach, VA

today to schedule your consultation with
Dr. Folck, Dr. Santos,
and our friendly, experience team. Our
state-of-the-art technology and genuinely caring approach make our practice
your premier destination for
general and
family dentistry solutions
in the
Virginia
Beach
area. We are also happy to serve communities in the surrounding areas
of
Portsmouth, Sandbridge, Norfolk, Fort
Story,
and beyond. We look forward to becoming your trusted partners in
your journey toward fresher breath and a healthier smile overall.