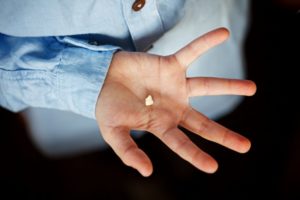 Did you know that the American College of Prosthodontics estimates that in the United States alone, roughly 178 million people are missing at least one tooth and more that 35 million people don't have any left at all? The number one cause of tooth loss is gum disease, which accounts for about 70% of all missing teeth, but a missing tooth can also be caused by cavities, injuries, and certain diseases. However you lost your tooth, you might find yourself smiling less and feeling embarrassed. But a missing tooth can mean more than just a gap in your smile! You could suffer serious, long-lasting effects if you don't act right away. Find out what happens when you wait to replace your missing tooth and how dental implants in Virginia Beach can help!
The Short-Term Problems of Missing Teeth
A missing tooth can change how you:
Eat: Teeth are meant to help us eat, and the loss of even one tooth can make it difficult to bite or chew foods like steak and corn. The effort from eating could cause you to develop digestive problems or malnutrition.
Talk: Certain sounds rely heavily on the placement of your teeth. If you lose specific teeth, like a front tooth, you will have a harder time speaking clearly, and others may have trouble understanding you.
Think: If you're worried about how noticeable your missing tooth is, you may find yourself smiling less, which can be detrimental to your relationships and self-esteem.
Small Problems Turn into Long-Term Impacts
As soon as your tooth is lost, your bones start to adjust. The longer you wait to replace a missing tooth, the more likely it is that you will experience:
Weakening and deterioration in your jawbone.
Changes in your facial structure, making your face look droopier and older.
Higher risk of developing gum disease and cavities.
Difficulty replacing missing teeth with dental implants.
Dental Implants Can Help!
There's no reason to delay getting a dental implant. They're the most popular solution for replacing missing teeth, and it's easy to see why. Implants aim to imitate the look, feel, and function of your natural teeth. They're anchored into your jawbone to create life-like stability while eating, talking, and smiling. This also stimulates blood flood in the jaw to encourage bone health and supports your facial structure!
In the long run, a gap in your teeth could cost you more than just your flawless smile. Avoid the short and long-term complications of missing teeth and talk to your dentist in Virginia Beach about replacing them with dental implants right away!
About the Practice
Smile by Design is based in Virginia Beach, VA. Dr. Vinita Folck and Dr. Stephanie Santos are both members of the prestigious Spear Study Club as well as the American Dental Association. For over a decade, they have been helping the Virginia Beach area build and restore beautiful smiles that inspire confidence with the help of a variety of services, including dental implants. If you'd like to know more, they can be contacted via their website or at (757) 499-9639.