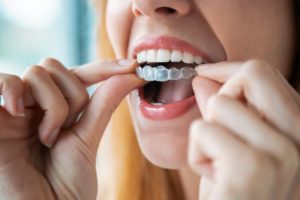 Are you straightening your smile with Invisalign? If so, you are not alone. It's estimated that 6 million people (and counting!) have aligned their teeth with this convenient and discreet orthodontic. The removable, clear aligners allow you the flexibility and comfort that traditional braces don't offer. Additionally, the timeframe for your new smile is usually shorter than other orthodontic treatments. However, there may be a few adjustments to your treatment plan as you approach the finish line to your new pearly whites. Here's what to know about Invisalign refinements and why you might need them.
What Are Invisalign Refinements?
Generally, you can expect the Invisalign process to take about 12 – 18 months to complete. During this time, you wear a series of aligners that gently apply pressure to your teeth and move them into their desired position. As you approach the end of your treatment, your pearly whites may need a little more assistance to be perfectly aligned. Here's where Invisalign refinements help!
Invisalign refinements are simply extra sets of trays that will "refine" your new smile. They are not much different from your previous aligners and are intended to fulfill your treatment plan and goals. By wearing them just as you wore your other trays, you will ensure your teeth are perfectly aligned.
Reasons You Might Need Invisalign Refinements
There are several reasons your dentist may recommend refining your smile after your orthodontic process. These include:
Neglecting to fulfill the recommended wear time of aligners (at least 22 hours a day)
Going extended periods of time without wearing aligners
Skipping the next set of aligners or switching them out too soon
Wearing aligners in the incorrect order
Needing to correct teeth that moved differently than expected
How Can You Ensure Success with Invisalign?
There are several things you can do to make the journey toward your new smile with Invisalign treatment more successful and decrease the chances of needing refinements. Here are some helpful tips:
Fulfill all treatment guidelines, especially the recommended wear time
Maintain an excellent oral health routine to prevent any oral health issues interfering with treatment
Keep aligners safe in their storage case while they aren't being worn; lost or broken aligners can cause delays and get the treatment plan off track
Maintain all check-in visits with dentist to ensure teeth are moving in the correct way
It's exciting to get the smile you've always wanted with Invisalign. Even if your treatment is extended a bit with Invisalign refinements, your newly aligned pearly whites will make it all worth it.
About the Practice
Smile By Design keeps the smiles of Virginia Beach healthy and beautiful through its team of dentists. With a focus on high-quality, comfortable dental care with the use of advanced dental technology, they want to help you achieve any of your dental goals. They provide a full range of services, including orthodontics like Invisalign. To schedule an appointment, contact them through their website or call (757) 499-9639.