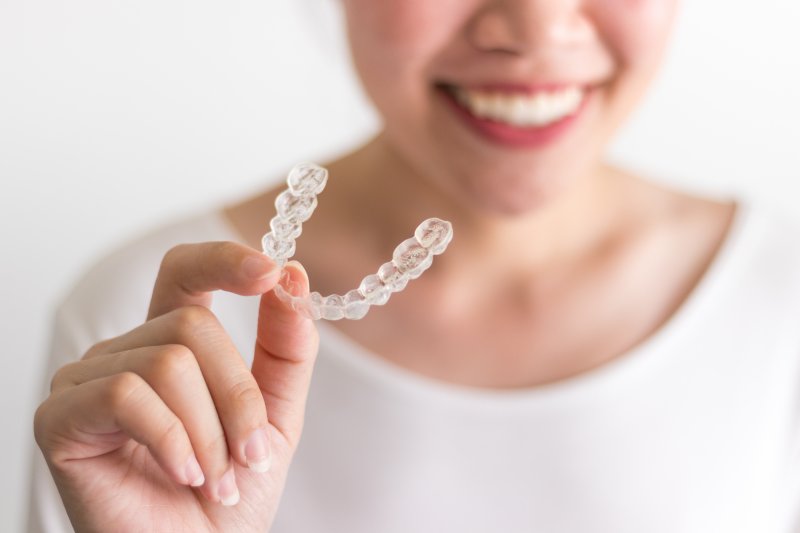 You've got big plans this summer. From vacationing on the beach with family and friends to attending your college roommate's wedding, there are plenty of reasons why you want a straighter smile before summertime. If you're looking for a solution without the hassle of metal, Invisalign in Virginia Beach may just be for you.
Why Choose Invisalign?
You've already decided the hassle of wires and metal brackets aren't for you, and you don't have time for years of treatment. Summer is just months away! You need a solution that will have you smiling big and bright for the camera during all your summertime activities and events. So, what do you do?
Invisalign is the ideal treatment solution for busy adults looking to hide their treatment and achieve fast results. Yes, we know, summer is so close you've started a countdown, but even though you will still be in braces, the best part is that no one will know! These clear, plastic aligners are a great alternative to traditional metal braces. Forget the frequent adjustments, irritated gums, and bulky hardware. With Invisalign, you'll be sporting a beautiful, straighter smile in no time!
What Are the Benefits of Invisalign?
You know the downside to metal braces, but what makes Invisalign so great? Let us share a few of the benefits that come with this cosmetic treatment solution:
Customized to your dental needs. Each aligner is carefully crafted according to the detailed treatment plan laid out by your dentist in Virginia Beach. After two weeks of wear, you'll move on to the next aligner set to keep your teeth moving toward their desired position.
Gentle treatment. With Invisalign, there is no need for wire adjustments because well, there are no wires! Each custom-made aligner gently moves your teeth into position, decreases the amount of pain that is often associated with orthodontic treatment.
Undetectable. Made of clear plastic, Invisalign aligners will not draw attention because others won't be able to see them!
Removable. While traditional braces don't come off, your aligners are removable, making it easy to eat and drink what you want. While your dentist will discuss which foods are better to eat and which ones you should avoid to prevent stains and bacteria buildup, you are actually instructed to remove your aligners before you consume any food or beverage.
No irritation. Because your aligners do not come with wires or metal brackets, you don't have to worry about soft tissue irritation.
Easy to clean. Invisalign trays are easy to clean, which make it easier to keep your teeth and gums healthy and clean as well. Brushing, flossing and rinsing your teeth like normal will prevent gum disease and tooth decay, and while performing your oral hygiene routine, you can simply clean your aligners with Invisalign cleaning crystals.
Shorter treatment. Although Invisalign can take between 10 to 18 months for your teeth to gradually shift, it is still usually shorter than traditional braces.
Start now with Invisalign, and get ready to notice a change in your smile. Since others won't even know you're receiving treatment, you can feel confident showing off your smile this summer.
About the Practice
At Smile by Design, we listen to you to learn about your dental needs and how we can assist in helping you to achieve your desired results. Using a gentle touch, you'll see that we provide high-quality dental care in a welcoming environment. Need a cosmetic solution to straighten your teeth? Our team of dental experts is here to ensure your smile is in good hands. To learn more about our office, contact us at (757) 499-9639.