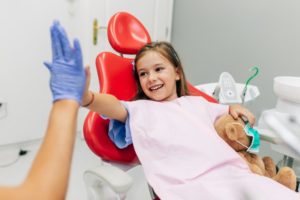 The weather is warming up, the sun is shining, and summer vacation is finally here! Now is the perfect time for your son or daughter to relax, have fun, and… get their dental checkup? It may not be the first item on your summer to-do list, but now is a great time to make sure your child's smile is happy, healthy, and ready to stay sunny all season long! Here are five reasons why you should schedule their routine dental checkup and cleaning with their Virginia Beach family dentist this summer.
1.) A Flexible Schedule Means More Availability
Once the busy school year comes to a close, time seems to slow down a little. You'll likely have an easier time scheduling an appointment for your child when you don't have to work around homework, soccer practice, band class, and other activities.
2.) Protect Your Vacation from Toothaches
Nothing can put a dent in your summer vacation quite like a toothache or cavity can, especially if you're travelling. Before you hit the road or head to the airport, visit your Virginia Beach dentist. A quick checkup at the beginning of summer is a great way to prevent small dental issues from turning into larger problems while you're having fun in the sun.
3.) More Time to Practice Better Dental Habits
Now that your son or daughter isn't rushing out the door for school every morning, they have more time to practice a thorough dental routine. If they're not already in the habit, now is a great time to ensure your child is brushing their teeth for two minutes twice a day and flossing all their teeth daily. Getting the hang of good oral hygiene now in the relaxing summer months will make it easier to stay on track when life gets busy again.
4.) Help Your Child Feel Good About Their Smile
At your child's dental checkup, their dentist or hygienist will use special tools to gently scrape away tartar buildup and polish up the surface of their teeth. Not only does this leave your little one's mouth healthier, but it makes it brighter and fresher as well. When they're proud of how good their smile looks and feels, they'll naturally begin to feel happier and more confident.
5.) Ideal Timing for Biannual Dental Checkups
The American Dental Association recommends that children and adults alike get dental checkups and cleanings twice a year. Routine visits ensure that your child's oral development and health are on track. If you schedule your little one's appointment in the early months of summer, their next checkup will fall roughly around the time that they'll be out of school for the winter holidays.
Don't let your child's oral health fall by the wayside this time of year! Visit your Virginia Beach family dentist to ensure their smile stays happy and healthy all summer long.
About the Practice
Smile by Design is proud to offer high quality dental care to smiles of all ages in Virginia Beach, VA and the surrounding communities. Their highly trained team of dentists goes above and beyond to ensure that their younger patients feel confident in the examination chair, comfortable during their appointment, and invested in their own oral health. They offer a variety of dental services like fluoride treatments and sealants that are designed specifically for growing smiles. To schedule your family's dental checkups this summer, feel free to contact them via their website or at (757) 499-9639.