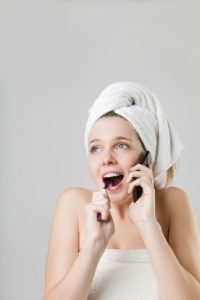 About 100 years ago, almost no one brushed their teeth. When men in the US were drafted for WWI, poor oral hygiene was considered a risk to national security, and during WWII, more recruits received medical rejection from military services because they didn't have enough teeth than for any other medical condition.  Maybe this seems like the distant past, but today, more people own smartphones than own toothbrushes and periodontal disease effects nearly 80% of US adults easily qualifying as an epidemic. Oral health has a long history of neglect. Despite the best efforts of dental professionals, most people don't spend enough time caring for their smiles, but in the past 30 years, a significant shift has occurred in dentistry to help improve dental health. Previously, dentists focused on treatment and replacement. Today, we focus on prevention and restoration. At Smile by Design, we don't treat your dental issues after they arise we prevent them, and if our preventive measures fail, we don't extract and replace your teeth, we always try to restore them. It's a whole new dental world, but without your commitment to oral health between visits, your teeth remain at risk. Call the Virginia Beach, VA dental practice of Drs. Stephanie L. Santos and Vinita John Folck to find out more about oral health or schedule an appointment today.
Essential Family Dentistry Virginia Beach Relies On
In order to maintain optimal oral health, the American Dental Association (ADA) recommends that, at minimum, people brush their teeth for 2 minutes 2 times a day, floss between teeth and below the gum line at least once per day, and receive a regular dental examination and cleaning every six months. That's the foundation for a lifetime of oral health, but many patients are surprised to hear that their oral health is closely related to their overall physical wellbeing. Remember that 80% of US adults suffer from some form of periodontal (gum) disease? Gum disease has been linked to numerous systemic and chronic illnesses including:
Cardiovascular disease – Oral bacteria causes infection and inflammation in the mouth. This infection and inflammation can spread throughout your body in your bloodstream. Fatty plaque deposits or other blood cell irregularities make it difficult for your heart to pump blood into the rest of your body which can lead to blood clots, stroke, and atrial fibrillation.
Infection of heart, lungs and liver – Endocarditis, walking pneumonia, and nonalcoholic fatty liver disease have all been linked to gum disease as a possible source or at the very least an indicator. While research hasn't discovered a causal connection, the likelihood that patients with one of these illnesses will also suffer from gum disease is more than 50%.
Immunodeficiency – Patients with diabetes, HIV/AIDS and other diseases that affect the immune system are extremely susceptible to gum disease.
Low weight and pre-term birth – A study of periodontitis (severe gum disease) developed from "pregnancy gingivitis" (common form of mild gum disease in pregnant women), has linked periodontal disease to low weight and pre-term birth. Women with periodontitis are 50% more likely to deliver early or underdeveloped babies.
Contact Your Family Dentist, Virginia Beach
There's no need to dread your next dental checkup. You should look forward to the opportunity to improve your oral health, and overall wellbeing. Drs. Santos and Folck and the entire Smile by Design team are dedicated to making you feel right at home because we do! Our staff loves coming to work every day, and our patients know it. Happiness is contagious, and we guarantee you'll smile through your entire appointment. Call to schedule a checkup or teeth cleaning today. Our convenient, Virginia Beach, VA office welcomes patients from surrounding areas Virginia Beach, Northeast Virginia Beach, Fort Story, Sand Bridge and beyond.