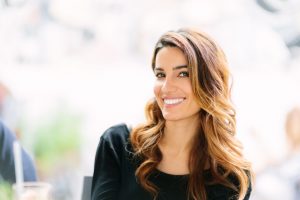 You've probably heard the saying, "Smile and the whole world smiles with you." It's true—when you smile, people smile back. However, some people are reluctant to share their smile because of the condition of their teeth. If this is you, then make 2017 the year that you improve your smile and change your life. Your Virginia Beach cosmetic dentist offers a number of treatments to enhance the appearance of your smile and at the same time renew your self-confidence.
Teeth Whitening in Virginia Beach
One of the most frequently requested cosmetic dentistry treatments is teeth whitening. There's a reason why so many people have their teeth whitened—it works! Drs. Santos and Folck use the Zoom! teeth whitening system by Philips. With Zoom! all you need is an hour to remove years of stains and discoloration due to coffee, tea, cola, red wine, spaghetti sauce, blueberries and more. The whitening solution is applied to your teeth and a special light activates and speeds the whitening process to make your smile several shades whiter and brighter.
Porcelain Veneers
Another popular cosmetic treatment from your dentist in Virginia Beach is porcelain veneers. Sometimes a smile needs more than a boost of whiteness. If teeth are chipped, cracked, broken or oddly shaped, porcelain veneers can hide an unsightly smile and give you one that is perfect for your mouth and face. Porcelain veneers are strong coverings that Dr. Santos or Dr. Folck bond to the facial side of teeth that show the most when you smile. Because we take photographs and careful measurements of your mouth, you can be sure that your new smile will look completely natural and made just for you. With porcelain veneers, you'll be able to speak, smile and laugh with confidence.
Tooth-Colored Fillings
Most people don't think a filling has a cosmetic component. But when that filling perfectly matches the color of your tooth, then there is certainly cosmetic value. A tooth-colored filling is made of composite resin material, which Dr. Santos or Dr. Folck can blend to create just the right shade for your tooth. Moreover, composite resin bonds to the remaining tooth structure, so the filling is even stronger and more durable.
Invisalign®
If improving your smile means straightening your teeth, then talk to the Virginia Beach cosmetic dentists at Smile by Design about Invisalign. This orthodontic system moves teeth into proper alignment just like traditional braces with brackets and wires, but much more discretely. Invisalign uses clear plastic braces to adjust your smile. Each pair is designed to build on the progress of the previous. After 12 to 24 months of treatment, your smile will be perfectly aligned.
Call Our Office Today
If you're ready to improve your smile in 2017, then contact Smile by Design. We're ready to help you have the smile you've always wanted.