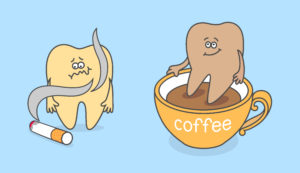 If anyone's ever said, "You should smile more," they were offering some sound advice. After all, smiling is associated with reduced stress, mood elevation, positivity, attractiveness, and more!
If you are dealing with tooth stains, however, you may be self-conscious and depriving yourself of those beneficial grins. Keep reading to learn more about the different types of tooth stains and how your dentist can help you return to a brighter smile!
What Are the Different Types of Tooth Stains?
Dental professionals have identified three main categories of tooth discoloration:
Extrinsic: This is a stain on the surface of the tooth. It occurs when stain particles accumulate in the film of protein that covers the tooth enamel. Extrinsic stains are generally caused by tobacco, dark fruits and vegetables, coffee, tea, wine, or dark soft drinks.
Intrinsic: This results from staining below the surface of the tooth. It happens when stain-causing particles work through the exterior of the tooth and accumulate within the enamel. Excessive fluoride use, certain medications, tooth decay, trauma to a tooth, and genetics are all causes.
Age-Related: These stains combine the results of intrinsic and extrinsic tooth discoloration. Since your teeth's dentin naturally yellows over time, teeth discolor with age. Tooth enamel also becomes thinner with age, allowing the dentin to show through.
How Can You Remove Tooth Stains?
For each category of tooth stain, there are recommended methods of removal:
Extrinsic: This type of stain responds well to regular dental cleaning and brushing teeth with a whitening toothpaste. Over-the-counter products may work as well.
Intrinsic: This variety is more difficult to remove. An intrinsic stain may require bleaching using in-office or at-home peroxide teeth-whitening products, both of which your dentist offers.
Age-Related: Since this stain is a combination of the other two varieties, it requires the approach for treating intrinsic staining – the more difficult type to remove.
What Alternative Treatments Does Your Dentist Offer for Stain Removal?
If you have not achieved your desired results with whitening products, you have other options:
Porcelain Veneers: They are thin sheets of layered ceramic which fit over your existing tooth structure and add strength to your teeth. Veneers literally cover up stubborn stains.
Dental Bonding: This involves using a composite resin to treat minor aesthetic issues, such as staining.
Just as there are different varieties of tooth stains, you have various options to brighten your smile! Your dentist can examine the staining and recommend an appropriate treatment plan.
About the Practice
At Smile by Design, we take the time to get to know our patients so we can create the most comfortable experience possible. You can expect high-quality care in a welcoming environment when you need a cosmetic dentist in Virginia Beach. Our dentists and team attend meetings, lectures, and conventions to stay current on the most modern techniques, products, and equipment available in dentistry today. Whether you seek a customized treatment plan to remove those stubborn tooth stains or want to learn more about our many other dental services, visit our website or call (757) 499-9639.