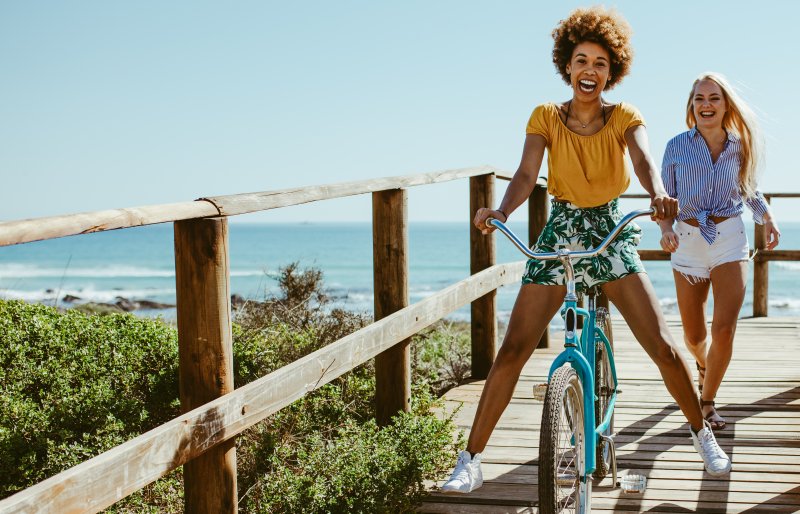 Now that summer has arrived, you and your family may have started thinking about how to spend the sunny season. Whether it's a weekend getaway, an overseas trip, or a cross-country road trip, your oral health should always be a priority. Most people forget to care for their smiles amidst all the fun, but we only get one set of teeth in our lives—we must do our best to protect them. Read along for six tips to prevent dental emergencies while traveling.
Establish a Good Oral Hygiene Routine
Summer vacation calls for an unpredictable schedule, especially while traveling. Establishing a good oral hygiene routine that works with your hectic schedule is critical to prevent dental health problems. Stay on track while on the go by packing a kit with travel-sized essentials like a toothbrush, fluoride toothpaste, floss, and fluoridated mouthwash.
Stay Hydrated
Sweet or acidic drinks like soda, lemonade, sports drinks, and juice may all sound delicious during a hot summer day, but they can damage your enamel and lead to tooth decay. Instead, opt for ice-cold water! It's refreshing, hydrating, and the best drink for your oral and bodily health.
Eat Healthy Snacks
It can be hard to limit snacking during road trips or flights since there's not much else to do. Protect your smile and limit sugary or acidic foods like candy, cookies, sodas, and chips. Stock up on healthy, tooth-friendly snacks like baby carrots, celery, apple slices, yogurt, cheese, and nuts. These tasty options will strengthen your teeth and keep your mouth and belly happy.
Safely Participate in Physical Activities
Are you and your family partaking in recreational activities or full-contact sports? Mouth injuries like broken or chipped teeth, fractured roots, and cut lips, are some of the main reasons for dental emergencies during summer. Prevent these accidents by wearing a mouthguard when participating in physical activity.
Pack a Dental Emergency Kit
Accidents happen all the time, regardless of where you are. Be prepared for the unexpected and pack a dental emergency kit with the following items:
Your dentist's phone number (office and emergency)
Gauze
A small container with a lid
A handkerchief
Saline solution
Visit Your Dentist Before Departure
Schedule checkups for the entire family before embarking on any adventures. Your dentist will be able to detect any problems and address concerns to avoid complications during your trip. The last thing you want is tooth or jaw pain to prevent you from enjoying your days off. Dental care may also be expensive or hard to come by at your destination, so it's best to manage any issues before your departure.
Don't spend your vacation recovering from a dental emergency! Follow these tips to protect your teeth so you can enjoy a healthy smile for many more summers to come.
About the Practice
Our team at Smile by Design takes the time to get to know each patient to create the most comfortable and fulfilling experience possible. Our goal is to take the stress out of your dental care and give you a smile you'll never stop showing off. We understand that accidents happen unexpectedly, even during summer vacation. If you or a family member need immediate care, we'll be ready to help right away. Schedule an emergency visit via our website or call (757) 499-9639.