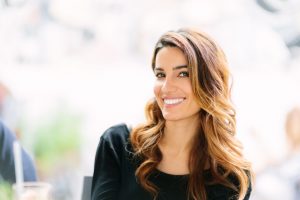 The cosmetic dentist in Virginia Beach knows nothing says confidence like a big, bright smile. But if you're suffering from imperfections in your front teeth, you're probably not grinning with as much pleasure as you could — but we can help you smile (and live) better. Learn about your options in cosmetic dentistry here at Smile By Design, from Dr. Stephanie Santos and Dr. Vinita Folck.
Top Cosmetic Dentistry in Virginia Beach
You've got options when it comes to how you'll improve your smile. We are proud to offer the following top cosmetic treatments at Smile By Design.
Teeth Whitening Takes Years Off a Smile
Good living takes a toll on the shade of your teeth. But you can erase the signs of coffee, red wine and other highly pigmented foods and beverages with in-office teeth whitening! We offer the incredible Zoom! Whitening system, which is completed in less than an hour. That means after one visit to Smiles By Design, you can enjoy teeth up to eight shades whiter — and convenient touch-up treatments at home keep your smile bright for longer.
Porcelain Veneers Are a Smile Makeover
For adults who are dealing with serious flaws or multiple imperfections in the front teeth, porcelain veneers can be the best choice. Thin caps of porcelain, dental veneers completely cover the front surface of the tooth — instantly enhancing its size, shape or color. Completed in just two visits to Smile By Design, porcelain veneers provide truly incredible smile results.
Tooth Colored Fillings Restore Teeth Beautifully
When damage or decay get the best of one or more of your teeth, you don't have to worry about a silver filling sticking out amongst your natural teeth. Dr. Santos and Dr. Folck are the experts in tooth colored fillings, which restore your tooth back to its original health with natural-looking composite resin. It's a quick procedure that works as well as amalgam fillings, just without the cosmetic flaws and potential for mercury exposure.
Schedule Your Appointment for Cosmetic Dentistry Today!
The benefits of improving your smile with cosmetic dentistry are numerous. Some of the most common include increased self-confidence and a stronger desire to engage in good oral hygiene habits. That means improving the appearance of your smile could also help encourage better health — something we think is just about priceless. Are you interested in learning how your smile can be improved with aesthetic treatments? If so, contact Smile By Design to schedule your appointment with the cosmetic dentist in 23462! We can't wait to help you smile your very best.