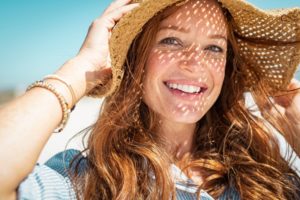 Life without a full set of teeth can get annoying, inconvenient, and downright exhausting very quickly. Not only do you have to deal with gaps in your grin that make you feel self-conscious, but it's also much harder to eat foods like steak and corn on the cob at summer cookouts. The good news is that dental implants are the next best thing to your real teeth, and there's no time like the present to get them! Keep reading to find out why summer is the perfect time to complete your smile with dental implants in Virginia Beach.
What Makes Dental Implants Unique
Other tooth replacements, like dentures and dental bridges, sit on top of the gums. They don't replace the root structure of the teeth, which is normally embedded in the gums and jaw. Dental implants are truly innovative in that they actually bring back this section of the teeth.
A dental implant is a small titanium cylinder. After a specialist surgically inserts this post into your jaw, it begins fusing with the nearby bone and tissue in a process called osseointegration. Then, it becomes sturdy enough to support a dental crown, bridge, or denture on top of it. By recreating every part of a missing tooth, dental implants look and feel just like what Mother Nature gave you!
Why You Should Get Dental Implants in the Summer
Osseointegration can take several months to complete. The sooner you begin the dental implant process, the better! In fact, if you start in the summer, chances are you'll have finished the treatment just in time for the winter holidays. You'll be able to show off your new and improved smile at all of your holiday gatherings.
In general, it's best to replace missing teeth as soon as possible. Without tooth roots, the jawbone begins to deteriorate, leading to a sunken and wrinkled facial appearance over time. Dental implants fulfill the function of tooth roots, so they can stop and even reverse this process. They'll allow you to maintain a youthful glow for this summer and many more to come!
Take Control of Your Smile Today!
If you're sick and tired of dealing with tooth loss, you're not alone. However, you don't have to continue suffering through this. About half a million people choose to rebuild their smiles with dental implants each year, and they couldn't be happier. Ask your dentist in Virginia Beach how you can begin the process of transforming your smile this summer with dental implants!
About the Authors
Dr. Vinita J. Folck, Dr. Stephanie Santos, and Dr. Madison Squire provide top-of-the-line family dental care at Smile by Design in Virginia Beach, VA. They partner with local dental implant specialists in the Virginia Beach area to ensure that their patients receive the highest quality of care when it comes to their smiles. To schedule a consultation and find out if dental implants are right for you, the Smile by Design team can be contacted via their website or by phone at (757) 499-9639.