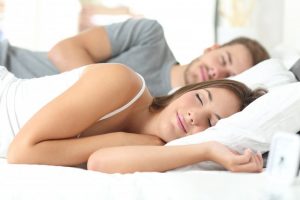 After a long day and filling dinner, all you can think about is hitting that head to the pillow and getting a good night's sleep. After closing the blinds and shutting the lights off, you pull the covers over your chest and close your eyes. Next thing you know you're waking up, coughing and gasping for air. "What just happened?" You wonder.
If you're experiencing episodes like this often, you could benefit from sleep apnea treatment in Virginia Beach. Keep reading to learn how to treat the condition that is sweeping the nation.
What is Sleep Apnea?
Obstructive sleep apnea (OSA) is a condition where the upper airway becomes blocked repeatedly during sleep, usually reducing or completely stopping airflow. This causes you to wake up suddenly, either choking or gasping for air several times a night. In comparison, central sleep apnea occurs when the brain fails to send signals needed to breathe, also causing sudden awakenment.
If you suffer from this condition, you'll soon find out that you're not alone.
Who is Affected by Sleep Apnea in the U.S.?
According to a new report from the American Academy of Sleep Medicine, OSA appears to be a hidden health crisis. The study projects that sleep apnea affects 29.4 million people in the U.S. and undiagnosed sleep apnea costs amount to about $150 billion in 2015 alone. The report also estimates untreated sleep apnea causes $87 billion in lost productivity each year as well as millions of dollars per year in work and auto accidents.
The AASM also released a survey that gathered data from sleep apnea patients across the country. In it, patients were asked how treating sleep apnea changed their life. Of the 500 surveyed, 78 percent said sleep apnea treatment was a good investment. If you experience snoring and choking/gasping during sleep, consider exploring treatment options with a trained dentist in Virginia Beach.
What Treatments are Available for Sleep Apnea?
Your dentist may recommend a specific mouthguard designed for people with OSA called a Thornton Adjustable Positioner or TAP. This device is meant to keep the airway open so air can flow easily during sleep. It positions the lower jaw forward, preventing the tissue of the soft palate from collapsing to reduce snoring.
Another mouthguard available is the Silent Nite, which also positions the jaw forward and allows more air to flow easily. Unlike the TAP, the Silent Nite is custom-made to fit your bite and is considered affordable and non-invasive.
Finally, there's the Elastic Mandibular Advancement mouthguard which works just like the TAP and Silent Nite, but uses multiple straps to open your bite and provide optimum patient comfort.
Don't let sleep apnea cost you valuable rest. Schedule a consultation with your dentist in Virginia Beach to see which treatment works best for you.
About the Author
Dr. Stephanie L. Santos DDS, received her Bachelor of Science in Chemistry from Old Dominion University followed by her Doctor of Dental Surgery from Virginia Commonwealth University. She eventually went on to complete advanced education in General Residency and worked as an army dentist for 3 years. To learn more about her practice, contact her at (757) 499-9639 or visit her website.