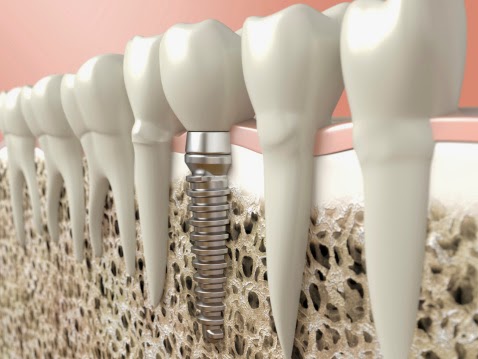 Having teeth missing from your
smile can be detrimental to the way you feel about yourself as well as the way
you interact with the people around you. Our smiles are how we show friendliness
to others, nourish ourselves, and communicate with people. If you have a smile
that is not complete, you may feel as though there is nothing that can bring
back the life your smile once had. Though you may have considered dentures and partials
as tooth replacements, you may be wanting a more permanent solution to your
smile woes. Thankfully,
Dr. Stephanie L.
Santos and Dr. Vinita John Folck
are able to give you the smile you have been wanting by offering
dental implants
to their patients at their
Virginia
Beach, VA
dental office.
Dental implants are a permanent solution to having a smile that is
not full, and it yields amazing results. You begin the process with a
consultation with one of our doctors. They will have to determine whether or
not you are a candidate for dental
implants my evaluating the current state of your smile, your gum health,
and your bone density. Dental implanting
involves embedding a titanium post into your jaw bone. Over time, the post will
promote healthy bone growth, as well as fuse with the implant itself, creating a strong bond. Once the proper amount of
healing has taken place, our doctors will make custom crowns to place atop the implant. The crowns look just like
natural teeth, making your smile makeover look as organic as possible.
One of the amazing things about dental implants is that you are able to
regain the confidence you may have lost. Feeling insecure about your smile is
never easy on anyone, and when you feel confident in the way you look, many
positive things are sure to follow. If you would like our doctors to help
restore your smile with dental implants,
contact our office today!
Contact our office
in
Virginia Beach, VA
today to schedule
your visit with our team, and explore the possibilities of
dental implants
for yourself. We look forward to helping you reveal
your most beautiful and confident smile yet. Our practice serves patients
throughout the
Virginia Beach
area,
including
Norfolk
,
Sandbridge
,
Portsmouth
,
Fort Story
,
and beyond.