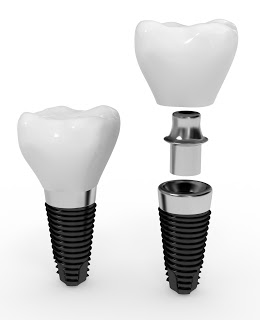 Are you missing one or more teeth? The most effective restorative solution for missing teeth today is dental implants. With dental implants, your Virginia Beach restorative dentist can replace anything from a single tooth to a full row of teeth. But what really makes dental implants effective isn't just how many teeth they can replace; it's the implant posts underneath that secure them to the jaw.
Dental implants are designed to mimic the structure of natural teeth with implant posts made of titanium, a biocompatible metal that will fuse with the jaw the way a natural tooth root would. Why is replacing missing teeth important? Because having one or more missing teeth can dramatically change your how your smile looks and functions.
Here's what you can expect from the dental implant process. First, your Virginia Beach dentist will complete a thorough oral exam to see if you're candidate for the procedure. Because of the bone loss that comes with missing teeth, not everyone is a candidate. If you are, your Virginia Beach dentist will then create a personalized treatment plan based around how many teeth you need to replace.
From there, the implant process takes two stages to complete. In the first, one or more dental implants will be placed in the jaw. How many you end up with will depend on how many teeth you're replacing. Then, after a healing period, your new crown, bridge, partial, or full denture will be attached.
Do you want to learn more about the benefits of dental implants? Call the Virginia Beach dental team of Dr. Stephanie Santos and Dr. Vinita Folck. We serve patients from Fort Story, Sandbridge, and beyond.