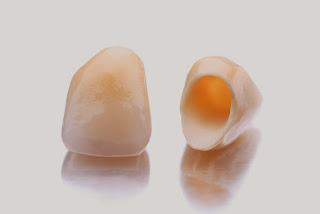 When a tooth becomes damaged, whether by decay or an injury,
it needs to be repaired. In many cases that's done with a dental crown. During a crown procedure, Dr. Folck or Dr. Santos
will cover (or cap) your damaged tooth with a custom-made restoration that resembles
the tooth they're treating.
The goal with a crown
is to restore your smile's appearance and functionality for both the short and
long term. In the short term, you're free from the discomfort that comes with a
damaged tooth; in the long term, the supportive root underneath your tooth is
preserved, ensuring that your jaw stays strong. Losing a tooth, and the root
underneath it, can cause the jaw to weaken and can put otherwise healthy teeth
in danger of becoming lost as well. The idea behind capping a tooth with a
crown is that the entire tooth is saved, and functionality and appearance are
restored as well.
Traditional
crowns
take at least two appointments to put in place.
CEREC crowns
from
Smile by Design
take just a
single appointment. In just one visit,
Dr.
Folck
or
Dr. Santos
will assess
your health, design your
crown
, and
use their
CEREC
machine to mill a
high-quality, porcelain restoration while you wait comfortably in our
Virginia Beach
dental office. Once your
brand new
CEREC crown
has been
completed and attached, you can leave our office feeling better about your oral
health and about how you look.
Do you need help restoring a tooth with a custom-made
crown
?
Call
Smile by Design
today for an
appointment with
Dr. Folck
or
Dr. Santos
. We offer restorative care
to patients from
Virginia Beach
,
Fort Story
, and
Sandbridge
.