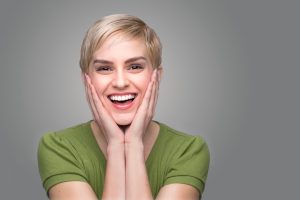 Your entire week was spent indoors, so today you've decided to hit the boardwalk and let the warm sun and open air relax you. The sound of the ocean is always soothing, plus there is always good people watching. It's interesting to get to peer into people's lives for a few seconds and then move on. Your mind keeps noticing people's teeth, however. They are all laughing and smiling so carefree. You wish you could be that confident, but your smile has a number of things you think are wrong with it. Drs. Santos and Folck want you to know how porcelain veneers in Virginia Beach can help people just like you.
What Are Porcelain Veneers?
Porcelain veneers are one of the simplest and most comprehensive ways to make your smile more beautiful. They can be a complete smile makeover and dramatically improve your overall look, as well as your confidence. What makes porcelain veneers so special is that they are able to address a variety of cosmetic issues at the same time:
Chipped, cracked, or broken teeth
Discolored teeth
Slight misaligned teeth
Obvious gaps
The veneers are extremely thin porcelain shells that are bonded to the front of your teeth, enhancing their look along with their strength. The ceramic material used is not only aesthetically pleasing, but perfectly matched with your other teeth. They can be customized to get you anything from a dramatic to a subtle result. Unlike your natural teeth, the veneers are non-porous, meaning they are resistant to stains. You can trust them just like you would your natural teeth, as simple brushing and flossing can see them last up to 20 years.
What Is The Procedure Like?
The process to get porcelain veneers is very straightforward and involves 4 basic steps:
You will have a consultation with one of our doctors at Smiles by Design and you both will decide on what type of result you are looking for.
Your teeth will then be prepared by removing a tiny portion of the enamel to make room for the veneers. After this, an impression will be made of your teeth.
This impression will be sent to a trusted local lab to fabricate your veneers.
The final visit is when they will be securely bonded to your teeth using a composite resin.
The whole process typically takes as little as 2 visits after the initial consultation. It is entirely painless and the results are apparent as soon as the veneers have been applied to your teeth. At this point, any adjustments can be made to help them suit you in both look and comfort.
How Can I Get Started?
The first step to getting porcelain veneers is to visit us at Smiles by Design. That way we can talk about what you are hoping to get with porcelain veneers. Your smile can be completely changed with one procedure, so be sure to call us about porcelain veneers today.