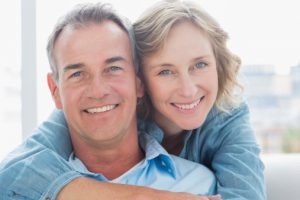 Gum disease therapy in Virginia Beach helps patients retain their natural teeth and experience less tenderness, bleeding, bad breath, gum and bone recession and infection common to plaque accumulation beneath the gums. While Stephanie L. Santos DDS and Vinita John Folck DDS, Virginia Beach dentists at Smile by Design, advocate disciplined dental hygiene at home and in the dental chair, they understand some people are more prone to periodontitis than others.

Gum disease treatment in Virginia Beach fights heart disease
As such, the dentists offer modern gum disease treatment in the Virginia Beach area to eradicate infection and reduce the threat of heart disease and other serious health conditions linked to periodontitis. When gum disease is discovered upon oral examination with periodontal probing (measuring of pocket depth around each tooth), Dr. Santos or Folck explains the risks of periodontal disease and how to treat it.
Patients should understand that individuals with advanced gum disease have twice the incidence of cardiovascular disease–that is, arteries blocked by plaque. The American Academy of Periodontology, dentists who study dental health issues and treatments, has documented this link between periodontitis and heart disease.
Both infection from oral bacteria in plaque and tartar and the inflammation that accompanies it factor into other heart and systemic issues as well, including:
stroke
heart attack
heart valve problems
cardiac arrhythmias
diabetes
rheumatoid arthritis
dementia
Alzheimer's Disease
pregnancy complications
respiratory diseases
osteoporosis
Research recently published in the American Journal of Preventive Medicine indicates that people who have even one gum disease treatment experience an up up tick in their systemic health as compared to people who ignore their gum disease. Additionally, while many patients experience obvious and uncomfortable symptoms of periodontitis, some individuals feel nothing at all, but the infection and inflammation do their damage silently. It's important to see your Virginia Beach dentist regularly.
Drs. Santos and Folck can help
Simple and comfortable root planing and scaling removes harmful plaque and tartar, and their associated toxic bacteria. This manual, deep cleaning smoothes tooth and root surfaces, allowing gums to heal and in some cases, re-attach to teeth.
The Virginia Beach dentists often use anti-microbial medications such as Oraqix or Arestin to speed the healing process. Follow-up therapy every 3 to 4 months keeps gums healthy.
Don't delay
If you have not had a routine dental examination and hygienic cleaning in a while, contact Smile by Design right away, and set-up an appointment.  The dentists and their team desire that each patient have the healthiest teeth and gums possible for bright smiles that last a lifetime– and great systemic health, too.