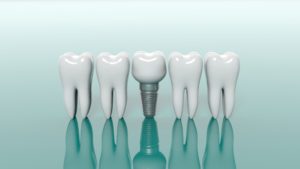 Many people fear losing a front tooth because a gap will be the focal point of their smile. Losing a back tooth may not seem as concerning because no one will see it. Although it may not stand out like a sore thumb, every tooth is crucial for a healthy, functional smile. A missing back tooth can have lasting consequences for your oral and general health. Here's why you should replace your lost tooth with a dental implant quickly. 
Your Jawbone Will Shrink
A single missing tooth can cause you to lose up to 25% of your jawbone's density within the first year, which will continue as time passes. Eventually, your remaining teeth won't have the support they need. They can drift from their positions, affecting your bite and increasing your risk of additional tooth loss. Not to mention, your facial tissues can sag, making you look years older than your chronological age.
A dental implant in Virginia Beach is the only solution to stop bone loss because it replaces both the root and crown. It will keep your jawbone strong and healthy to preserve your natural smile and youthful appearance.
You'll Be at Risk of Dental Problems
As your teeth shift, they can become difficult to keep clean. As a result, you'll have an increased risk of cavities and gum disease. You can also experience uneven enamel erosion, TMJ disorders, and many other preventable complications. Replacing your tooth quickly will help you avoid costly dental bills later to save money down the road.
Your Health Can Decline
Your molars are crucial for grinding and chewing your food, kick-starting the digestive process. If you've lost a tooth, certain foods can be challenging to chew, like meat. You might avoid them all together, which can lead to nutritional deficiencies that can harm your general health.
Invest in a Complete Smile with a Dental Implant
You can avoid the challenges of tooth loss with a dental implant. As the only method to replicate the entire tooth structure, it will stimulate your jawbone to keep it healthy. Your bone will fuse to the implant through a process called osseointegration, allowing it to look and feel like your real tooth. With the support of your jawbone, you'll regain up to 70% of your natural biting force to enjoy all your favorite foods. A dental implant has over a 95% success rate and the potential to thrive for decades, making it a wise investment for your oral health and future.
If you've lost a tooth, don't wait to have it replaced. Even if no one can see it, your smile and quality of life depend on rebuilding your smile.
About Dr. Vinita Folck
Dr. Folck earned her dental degree from the University of Texas Health Science Center and has continued her education to provide advanced services, like dental implants. She is a member of multiple professional organizations, including the American Dental Association. Contact our office today to request your consultation with a reputable dentist in Virginia Beach.