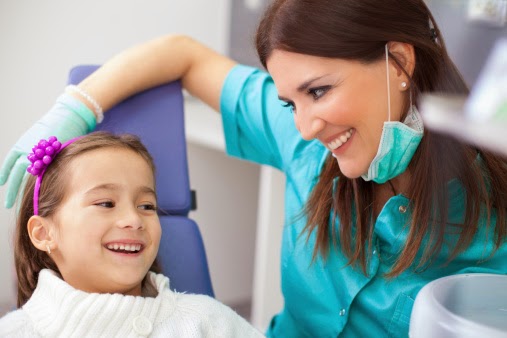 For kids, Halloween is nothing but fun. Costumes,
candy, games and parties. For parents and the other people who care about kids,
Halloween can raise a few concerns. Of course, you take every precaution to
make sure your children are safe on that night of trick-or-treating. But how
about protecting their teeth? This is the perfect time of year to be mindful of
your children's oral health.
Dr. Stephanie
Santos and Dr. Vinita Folck
at Smile by Design in
Virginia Beach, VA,
make
children's
dentistry
an integral part of their family practice.
Children's
Dentistry: A Partnership among Dentists, Parents and Kids
At home, you know what you should do to help your
children build a foundation of good oral health. Brush and floss at least twice
a day, usually in the morning and at night. This practice should begin as soon
as that first little white tooth shows up in your baby's gum. Just take a soft
washcloth or gauze pad and wipe the tooth with warm water after feeding. As
more teeth grow, you'll want to use a soft child's toothbrush and pea-size
amount of toothpaste. Help your children brush their teeth until the age of
seven or eight, when they have the coordination to do so themselves.
That foundation for good oral health continues when
you bring your children to Smile by
Design. Your child's first visit to the dentist should happen between the
ages of two and three, or certainly earlier if you suspect a problem. Our
dentists and their staff will do their best to make sure your child's time in
the office is relaxed and inviting. Then, as they grow and mature, they will be
comfortable with routine dental procedures such as cleanings, fluoride
treatments and the occasional x-ray. We recommend bringing your children to the
dentist twice per year, so that we can spot concerns before they become
problems.
Contact
Our Office Today
Keep your little ghosts and goblins smiling brightly
with children's dentistry at Smile by Design in Virginia Beach, VA.
Schedule an appointment today. We conveniently serves patients in the
surrounding communities of Fort Story, Portsmouth, Sandbridge and Norfolk.