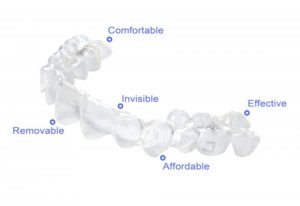 Do you feel like you missed out on your chance to get a straighter smile in high school? The good news is, traditional metal braces aren't the only orthodontic option. As an adult, you don't have to sacrifice your professional appearance for a straighter smile anymore! Getting Invisalign in Virginia Beach can improve your smile by aligning your teeth all while being practically unnoticeable. Read on to learn more about the procedure and how it works.
How Does Invisalign Work?
Invisalign treatment consists of a series of custom-crafted aligners that slowly and gently move your teeth into their ideal positions. They're made from an FDA-approved durable and flexible clear plastic, and each set of trays will be exchanged about every two weeks. Treatment typically lasts between 12 and 14 months depending on the severity of your misalignment.
During your appointment with your dentist in Virginia Beach, they'll take impressions of your teeth to send off to a special Invisalign lab to have your aligners made. They'll also be able to show you a digital model of how your teeth will gradually shift throughout your treatment.
What Are Some Benefits of Invisalign?
Invisalign is one of the most convenient and unnoticeable treatments to straighten your teeth. Like most orthodontic treatments, you may have to make a couple of small life changes like taking out your trays to brush and floss more often and before you eat. One of the most popular benefits of this treatment is that because your aligners are made from a clear plastic material, you won't have to deal with the cumbersome look or discomfort of metal wires and brackets.
Because your aligners are removable, you can continue to enjoy all the snacks, foods, and drinks that you normally would. You can also keep up with your oral hygiene easier. Instead of having to maneuver in between wires and brackets to get to hard-to-reach areas of your mouth, all you have to do is take your trays out and brush and floss like you normally would. This makes it easier to avoid cavities and dental decay during your treatment.
How Can You Get Started?
In order to determine if Invisalign is the right treatment for you, it's best to schedule a consultation with your dentist. This way, you can discuss any limitations that this procedure has compared to other cosmetic services. It's also a great chance to ask any questions or voice concerns you may have. Invisalign can correct common dental problems like gaps in between teeth, certain bite problems, and crowded and misaligned teeth.
If you suffer from other cosmetic issues, it's best to talk to your dentist about what improvements you'd like to be made. Start your journey to getting a smile that you're proud to show off all while maintaining a professional image by getting Invisalign!
About the Author
Dr. Vinita Folck enjoys creating long-lasting relationships with her patients by taking the time to get to know them and listen. She enjoys making all of her patients smile and have a great experience during their appointment. She offers a variety of cosmetic services such as Invisalign and Zoom! teeth whitening. For questions or to schedule an Invisalign consultation, visit Smile by Design's website or contact 757-499-9639.