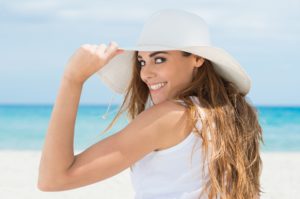 Summer is here, and that means relaxation and fun in the sun! At least, it should. However, sometimes a dental emergency can put all other summer plans on hold. You don't want a toothache or a knocked-out tooth to ruin your vacation! That's why it's important to learn how you can lower your risk of dental emergencies from happening. A family dentist in Virginia Beach explains how you can keep your summer emergency-free.
What is a Dental Emergency?
A dental emergency is any dental problem that needs immediate treatment or else it could worsen. These issues often happen with no warning and at an inconvenient time or location. However, no matter what you're doing, it's important to stop everything and call your dentist as soon as the emergency occurs.
Some examples of common dental emergencies include:
Knocked-out tooth
Unexplained painful toothache
Object lodged between teeth
Bitten tongue
Knocked-out filling or crown
What Can Cause Dental Emergencies?
Sometimes emergencies are due to neglect of proper oral hygiene. Toothaches are frequently caused by an oral infection inside the tooth where the nerve is located. Tooth decay can develop when you avoid regular brushing, flossing, or dental checkups. Untreated decay worsens over time until it causes serious pain. In this case, your dentist might recommend a filling or even a root canal to alleviate the discomfort.
Dental emergencies can also occur seemingly at random. Accidents happen, and most knocked-out teeth or restorations, such as crowns or fillings, are the result of injuries. In this case, you'll want to contact your dentist right away. The sooner you can see them, the higher chances of saving the tooth or restoration.
How Can I Prevent a Dental Emergency?
There is no 100 percent guaranteed way to stop dental emergencies from happening, but here are a few things you can do to lower your risk:
Practice good oral hygiene. Brushing twice a day and flossing once a day can drastically cut your chances of developing tooth decay.
See your dentist in Virginia Beach twice a year. At biannual checkups, your dentist can determine if you have any early stages of problems that could potentially cause an emergency, like a cavity. You'll also get your teeth thoroughly cleaned, eradicating plaque in hard-to-reach areas that can lead to decay.
Wear a mouthguard when playing sports. It might not look cool when you're playing volleyball on the beach, but it certainly looks cooler than missing teeth! You can never be too careful when trying to keep teeth from being knocked out.
Steer clear of very sticky or crunchy foods. Summer might seem like a great time to chow down on some ice and candy, but they can wreak havoc on your mouth. Hard foods can leave cracks in your teeth and result in awful pain. Sticky foods can cause a crown to get dislodged, leaving the sensitive tooth and gum tissue underneath exposed.
By following these tips, you can avoid an extra trip to your dentist's office and enjoy your summer to the fullest without having to worry about being in pain. Don't let a dental emergency get in the way of having fun in the sun!
About the Practice
At Smile by Design in Virginia Beach, VA, if you call us about a dental emergency, we'll make it a priority to see you on the same day as your call. Both Dr. Vinita Folck and Dr. Stephanie Santos have years of experience in emergency dentistry, so they are prepared to help you with whatever problem you might have. If you're experiencing any kind of mouth pain, feel free to contact us or call (757)-499-9639.