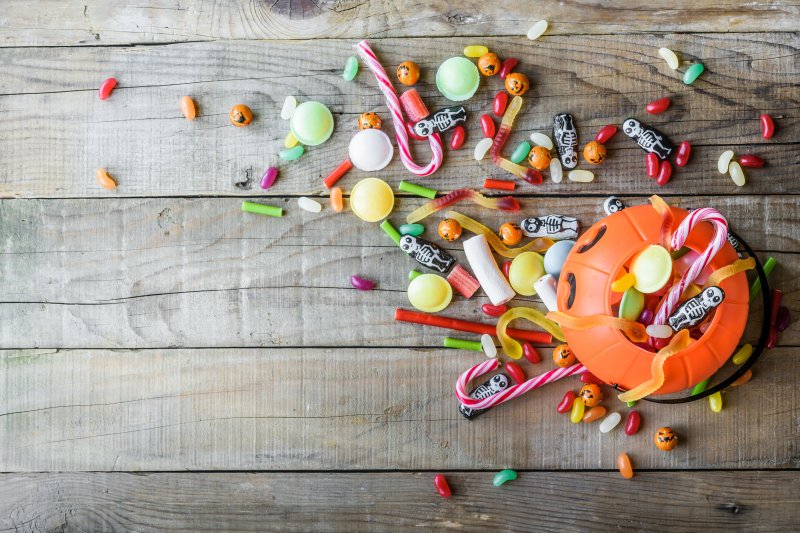 With the leaves turning colors and the air getting colder, you probably know that Halloween is right around the corner. If you enjoy dressing up for the spooky season and going trick-or-treating, you're bound to accumulate an ample amount of treats that can last through the winter (hopefully). While Halloween candy is tasty and makes for a fun holiday, it can also harm your oral health in the long run. Read on to learn what these snacks can do to your smile and tips on how to manage your sugar cravings!
How Does Candy Impact Your Oral Health?
Most people know that sugar is a major culprit for dental health issues. Whenever you consume sweets, the bacteria in your mouth will become excited and feed on the sugary, resulting in an acid byproduct that will eat away at your enamel. While candy is generally unhealthy for your pearly whites, some kinds are much more detrimental than others. Hard, gummy, sticky, and sour treats can be incredibly harmful to your teeth, as they tend to stay longer in your mouth. The more your smile is exposed to sugar, the more time bacteria have to wear it down.
Tips to Manage Your Halloween Sweet Tooth
Do you typically love to enjoy your Halloween candy? If so, here are several ways you can effectively manage your sweet tooth and preserve your healthy teeth, including:
Keep a limit on your candy stash: Before going out to trick-or-treat, try planning on a reduced limit of candy that you'll bring back home. For instance, everyone in your family can keep a certain amount of treats while donating the remaining ones to an organization of your choosing. You can also limit the number of houses you visit during Halloween, or you can trade the bulk of your stash for non-candy prizes. Try sticking to your plan and discussing it with your family ahead of time.
Maintain a well-balanced diet: Make sure to keep a healthy diet when it isn't Halloween. Your meals should consist of nutrient-dense foods that will both fill you up and promote better oral health. Try eating lean proteins, fresh fruits, cooked veggies, whole grains, and calcium-rich dairy products for a clean and healthy smile.
Switch to healthier alternatives: Whenever you feel the urge to eat a Halloween candy, try reaching for fresh fruit instead. Consider stocking up on delicious alternatives that won't coat your teeth with sugars or starches. You'll be able to satisfy your craving without putting your pearly whites at risk.
Are you and your family ready for Halloween? Keep these few tips in mind, and you should easily manage your sweet tooth and preserve a healthy smile in the long run!
About the Author
Dr. Stephanie L. Santos earned her dental doctorate from Virginia Commonwealth University. She's also a member of several organizations like the American Dental Association and the Spear Study Club. She provides a wide variety of high-quality services, including dental checkups/cleanings, fillings, and children's dentistry. If you'd like to schedule an appointment, visit her website or call 757-499-9639.