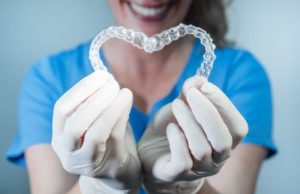 Whether you're traveling across the country or simply having a virtual get-together with family members, the holiday season can throw anyone's schedule out of whack. It can be all too easy to get off track with your Invisalign treatment at this time of year. Even though Invisalign in Virginia Beach doesn't come with nearly as many restrictions as metal braces, you'll still have to put in some effort throughout your treatment to make it effective. Here are a few tips on celebrating the holidays without compromising your treatment.
Wear Your Aligners for at Least 22 Hours a Day
Unlike traditional braces, the clear aligners are not fixed to your teeth. You can conveniently take them out when eating or for special occasions, like taking group pictures. However, be sure to place them back in soon after the event is over. Not wearing them for 22 hours a day could lengthen your treatment timeline.
Keep Track of Your Carrying Case
Even if all you're doing is meeting your family for lunch, don't forget to bring your storage case. You'll have to take them out to eat and drink anything besides water. Some people have a bad habit of placing their trays on their napkin or plate during a meal, resulting in accidentally throwing them away. Keep them safe by storing them in their protective carrying case while eating.
Don't Forget to Brush
In all of the excitement of traveling and visiting family, you might get thrown off your routine of brushing your teeth after every meal and before placing your aligners back in your mouth. But forgetting to do this can trap food particles against your teeth, increasing your risk of cavities. Not to mention, your aligners might become discolored. Set a reminder on your phone before each meal to brush afterward.
Keep Your Aligners Away from Heat
Warm beverages like hot chocolate and pumpkin spice lattes have become holiday staples. However, if these hot liquids come into contact with your aligners, it can warp their shape. As a result, your teeth may not shift into the correct positions, delaying the completion of your treatment. Before drinking anything other than water, remember to take out your aligners and put them in their case.
Even if you're undergoing orthodontic treatment, you can still enjoy the holiday season if you keep these tips in mind. If you have any questions about your treatment, don't hesitate to contact your dentist in Virginia Beach.
About the Practice
At Smile by Design, all of our dental professionals will listen closely to your dental needs and develop a customized treatment plan to help you achieve your dream smile. Dr. Stephanie Santos, Dr. Vinita Folck, and Dr. Madison Santos are proud to offer Invisalign treatment to all qualified patients in the Virginia Beach area. To learn more about Invisalign and how to stay on track with your treatment, contact us at (757) 499-9639.