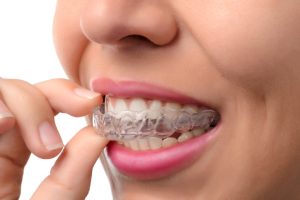 Your friend just sent you pictures of your trip this past weekend, and after looking at them, you finally decide it's time to get your crooked teeth fixed. You're not showing your teeth in any of the pictures because you felt self-conscious about them, and frankly, you looked like you're annoyed. You had a great time, and that's the last impression you want to give your friends. You've heard that you can get your teeth straightened without braces thanks to Invisalign in Virginia Beach, VA, but is it right for you? Today, Dr. Stephanie L. Santos of Smile By Design is going to tell you how she will determine if you are a good candidate for Invisalign.
1. Are your teeth and gums healthy?
This is a key thing I look for before recommending any kind of orthodontic treatment. This is because it often makes it more difficult to clean your teeth, so if you already have problems, orthodontics will not help. Invisalign makes it much easier because you can simply take the trays on and off to brush your teeth, but there is still the potential for bacteria to get trapped within them, and this could cause a lot of issues for someone who is already experiencing tooth decay and gum disease.
2. What are you hoping to fix?
Invisalign is used specifically to straighten your teeth, and can correct problems such as crowded teeth, gapped teeth, an overbite, and an underbite. It is very efficient at doing this, and many people have completely transformed their smiles with it. It cannot, however, fix other cosmetic flaws. If you have stained or broken teeth, or want to close large gaps, you will need to get other treatments to correct these issues. Luckily for you, we have services that can address just about any cosmetic issue you might have.
3. How old are you?
Invisalign is generally recommended for adults and older teenagers. This is because the teeth of younger teenagers and children are still growing, and this could limit Invisalign's long-term effects. Invisalign is good for older teenagers because they can go to school and hang out with friends without having obvious dental work show whenever they speak. This is the same for adults who want to keep up their professional image at work, and don't want to look like a kid again due to braces.
4. How committed are you to fixing your smile?
Invisalign is probably the easiest orthodontic treatment available today when it comes to maintenance, but it still needs to be taken care of. The aligners need to be cleaned every day, and patients need to be sure and wear them at least 22 hours a day. This can make Invisalign not the best choice for younger patients because the temptation to take them out may be too great. For people who are ready to finally straighten their smile, however, treatment and maintenance will feel like a breeze.
Any Questions?
Using these 4 simple questions, I'll be able to figure out if Invisalign is right for you. Of course, in order to truly answer them, you need to make an appointment for me to see you. This will give me the chance to examine your teeth and figure out how I can give you the smile you've always wanted.
If you have any other questions about Invisalign, how it works, or if it's right for you, please call your cosmetic dentist in Virginia Beach, VA today.