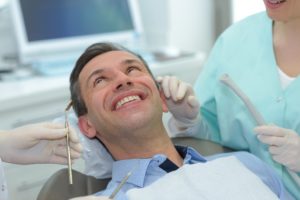 The holidays are an exciting time of year as you shop for the perfect gifts and plan tasty family meals. Despite the bright decorations and festive gatherings, do not forget to visit your family dentist in Virginia Beach. As the last few weeks of the year end, your dental insurance is about to expire. If you do not lose your remaining coverage now, you not only place the health of your smile at risk but also waste hundreds of dollars in premiums and deductibles.

Promote a Healthy Smile
Dental insurance focuses on keeping your teeth and gums healthy to reduce your long-term costs. Besides brushing and flossing at home, the American Dental Association also recommends you see your dentist twice a year for a cleaning and checkup. This allows them to monitor your oral health to keep your smile healthy. For every $1 you spend on prevention it can save you $8 to $50 on restorative and emergency services, reducing your overall dental expenses.
To make going to the dentist easy, you have access to comprehensive dental coverage. By paying your monthly premiums, you can visit your dentist twice a year for little to no out-of-pocket expense. In addition to preventive services, you are also given a yearly allowance to use toward restorative treatments. Depending on your specific policy, you could save as much as 80% on the treatments you need after paying your deductible.
To make the most of your coverage, it is recommended you visit a dentist in Virginia Beach who is in-network with your insurance company.  They have pre-negotiated rates to reduce the amount you need to pay. Although it is best to visit one who is in-network, you can still use your insurance at a location that is outside of your network. You will need to pay the difference between the dentist's fees and your insurance's annual allowance.
Use Your Benefits Today
Unfortunately, your insurance benefits do not last forever. At the end of the year, they expire. You will not be reimbursed for the premiums or deductibles you have paid throughout the year. Your annual allowance will not carry over into the new year. With less than 3% of Americans meeting or exceeding the yearly coverage, you likely have several remaining benefits you are about to lose.
Schedule an Appointment Now
Do not let your benefit go to waste. Make the time to visit your dentist before the year ends to keep your smile healthy for affordable rates. They work on your behalf with your insurance company to lower the amount you need to pay for the care you need.
About Smile by Design
Smile by Design takes the time to get to know our patients to deliver individualize solutions to keep your smile healthy. We work with the nation's leading insurance carriers to keep our services affordable. If you need an appointment before the year ends, do not wait. Contact our office today to schedule your next visit.