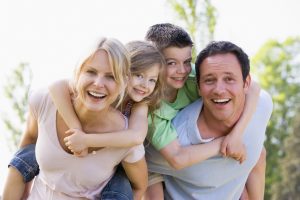 As another blistering-hot summer comes to an end, you don't want your children's oral health to cool down. As they prepare to start a new year, you wonder what can be done to step up their oral hygiene? Your family dentist in Virginia Beach weighs in with some helpful tips that will make all of your lives easier.
Why Oral Hygiene is So Important
When looking for ways to improve dental health, oral hygiene has to be at the top of the list because it's something that should be participated in every day of the year. Thus, your children should be encouraged to brush and floss their teeth.
The latter two form the perfect one-two punch because brushing agitates and removes most of the debris from the teeth while flossing probes the hard-to-reach areas between them. Thus, your children will be better protected from cavities, gum disease, toothaches and other problems.
Can Returning to School Help Out?
When it comes to oral hygiene and dental health, here are two of the benefits that come from your children returning to school for another academic year:
A Set Schedule – For many kids, summer is a period when there is the flexibility to wake-up at any time each morning. Thus, their oral hygiene schedules can be knocked off track. When school restarts, though, children are once again required to be more regimented, which is an excellent way to reintroduce proper dental hygiene to their daily routines.
Greater Self-Awareness – Another benefit of your children heading back to school is that as they mature, they become more self-conscious. Thus, they'll be more inclined to monitor their oral hygiene. Nobody wants to be labeled as the kid with bad breath at school.
Your Dentist Can Help Out
A final way to encourage better oral care and hygiene as the new school year starts is to schedule your children for a preventive care visit at the end of the summer. Not only will it serve as a way to ignite the desire of your kiddos to practice better daily hygienic practices, but it will also make life easier for you.
Preventive care visits should be attended every six months. Thus, if you take your children in at the end of the summer, their next time to return would be during the holiday break. That means they won't have to miss school and you won't have to worry about running back-and-forth to get them to their appointments.
By following the simple formula provided here you have a better chance of protecting your kids' oral health and starting them on the right path. To schedule their first visit, reach out to your dentist in Virginia Beach today.
About the Author
Dr. Stephanie L. Santos earned her DDS degree from Virginia Commonwealth University. Since she first entered the dental field, she has been passionate about helping families experience the absolute best in dental health. Dr. Santos provides patient and thorough preventive care at Smile by Design and can be reached for more information through her website.