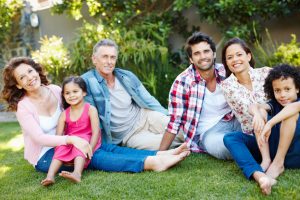 So much has changed since you were a child — not the least of which is your smile. Your dental needs are very different from what they once were. Yes, our teeth change a lot over the years, and that means your visits to the dentist will be a little different, too. Learn about our changing dental needs throughout a lifetime from the trusted family dentist in Virginia Beach at Smile By Design today!
Infant and Toddler Dental Needs: The First Teeth
In their first few years, children are learning the very basics of good oral health and hygiene. The first dental appointment should occur around the time their first tooth erupts, with regular visits beginning no later than their first birthday. It may seem early, but decay can begin with the very first tooth.
This first visit is important for more than checking for decay and potential problems — it's also about establishing a good relationship between the child and their dentist. Positive experiences at this young age can help set children up for a lifetime of healthy teeth.
Children's Teeth (Ages 6+)
Once a child can tie her own shoes, she'll be able to begin brushing her own teeth — and this is right around the time she becomes more vulnerable to cavities than ever before. Fortunately, your dentist has an excellent defense to help protect her tooth enamel from decay. It's known as a dental sealant, and it's a quick, painless treatment that can shield the back molars from the bacteria and acids that cause cavities for years to come.
In addition to dental sealants, children at this age can also benefit from fluoride treatments to strengthen tooth enamel.
Older Children and Teens: Orthodontic Concerns
While orthodontic treatment can be beneficial for patients of all ages, it is often most effective in childhood and early adolescence. Traditional braces can help improve the alignment of crooked, crowded, gapped or otherwise misaligned teeth.
Adult Dental Needs
In adulthood, there are a variety of dental needs to consider. Your dentist should encourage regular preventive care to help keep problems like decay and infection from beginning, and to catch them early when they do. You should keep up with regular checkups for cavities, gum disease and oral cancer.  Once your teeth are as healthy as can be, you can also begin to consider your options in cosmetic dentistry — because there's nothing that says your teeth shouldn't be as beautiful as they are healthy.
Older Adults (65+)
Older adults are at the greatest risk for tooth loss and gum disease. Undergoing regular checkups and cleanings can help to reduce the chances of these occurring. When they do, restorative treatments (including dentures, partials and dental implants) can help complete a smile for full living once again.
Preventive Care Crucial at Every Stage
No matter your age or stage in life, regular checkups and cleanings are always crucial for maintaining a healthy smile. When was your last visit to Smile By Design? Don't wait around for a problem to develop. Contact us to schedule your appointment with the family dentist in 23462 today!