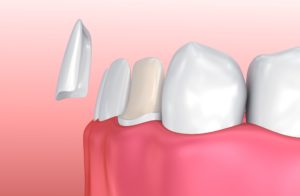 Dental veneers have ranked among the top elective services for the past decade. However, they have been around for much longer. Veneers have been used since 1928, but they've come a long way over the years. Various improvements to the materials and technique now allow veneers to last for longer than ever before. Here's how they have evolved throughout time to create the dazzling results of today.
Early Dental Veneers
Veneers first made their appearance in the 1920s. A Californian dentist named Charles Pincus designed veneers in 1928 to temporarily change the appearance of an actor's smile before shooting a film.
He applied an acrylic material to the front surfaces of his teeth, which were held in place using a temporary adhesive. Although they were successful, they would fall off after an hour or two. Their short lifespan and demand in Hollywood led Dr. Pincus to provide cosmetic dental treatments onsite.
During the 1930s and 1940s, veneers were made from composites and porcelain, which provided more realistic results. Movie stars weren't the only people investing in veneers during this time. They became more accessible to everyday people.
An advancement that revolutionized the entire procedure occurred in 1959 with the development of etching. Dr. Michael Buonocore discovered that a stronger bonding surface was created after applying a mild acidic solution to the tooth. Not only is this method still used today, but it's also used with dental sealants, crowns, and other restorations.
Modern-Day Dental Veneers
In the 1980s, another major improvement was made by R.J. Simonsen and J.R. Calamia. They developed a new technique to etch the surfaces of teeth, creating a bond that could last for many years with hydrofluoric acid.
Modern veneers are also made of porcelain because it closely looks like enamel. It is also biocompatible and durable. It also allows veneers to be very thin, so less enamel is removed during the bonding process. It's not uncommon for veneers to last for a decade or more with the correct aftercare, like brushing and flossing.
Invest in a Stunning Smile
Veneers have become a great solution for people from all walks of life because they can treat many issues at once. You can say goodbye to stains, chips, and gaps in as few as 2 appointments. You won't have to pay for multiple procedures and you'll save time.
Veneers are a proven solution to provide drastic, lasting results. If you're not happy with the way your teeth look, veneers can turn the smile of your dreams into reality.
About Dr. Vinita Folck
Dr. Folck earned her dental degree from the University of Texas Health Science Center and has regularly continued her education to provide specialty services, like cosmetic dentistry. She is a proud member of many professional organizations, including the American Dental Association and the Virginia Dental Association. Request an appointment through our website or call (757) 394-8233.