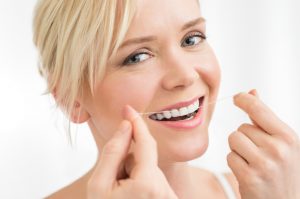 With 2017 right around the corner, most people start thinking about improving their health. Your trusted team at Smile by Design doesn't want you to forget about your oral health, so we're including some great ideas for achieving your goals at home. Your dentist in Virginia Beach offer oral health tips for the New Year.
Use Proper Brushing Techniques
Did you know that how you brush your teeth is just as important as how often you brush? It's important to use a soft brush and gentle circular motions on both the inner and outer surfaces of your teeth. Be gentle when brushing around your gum line, as hard scrubbing can cause damage to your delicate gum tissue. Brushing for a full two minutes is recommended in order to remove plaque and debris from your teeth.
Many patients switch to using an electric toothbrush because it essentially does all the hard work for you. It will even time your brushing session to ensure that you achieve the full two minutes. Our hygienists report that patients who use an electric brush have less plaque buildup in between dental visits than patients who brush manually.
Don't Forget to Floss!
Flossing may seem like a nuisance, however, it's really important because it removes plaque buildup from in between your teeth. Did you know that you can actually get cavities in between your teeth? Flossing also helps to strengthen gum tissue, protect against gum disease, and promote fresh breath.
Wrap about 18 inches of floss around your fingers and work the floss gently between your teeth wrapping it around your tooth in a C shape. Use clean floss for each tooth, and be gentle so you don't damage your gum tissue. Don't forget to floss – it really doesn't add that much extra time to your home care routine.
Add an Antibacterial Mouth Rinse to Your Home Care
Adding a mouth rinse to your home care routine is a great way to give yourself added protection against the acids in your mouth that cause tooth decay and cavities. Be sure to discuss with your dentist which mouth rinse is right for your needs because not all of them may be beneficial. A mouth rinse is quick and easy to do, and as a bonus it'll help freshen your breath!
Contact Our Office to Learn More
At Smile by Design, your family dentist in Virgina Beach, provide high quality dentistry to their patients in a warm and friendly environment. Dr. Stephanie Santos and Dr. Vinita Folck are here to be your partners in achieving and maintaining optimum oral health, however we know that it also begins at home. We hope these tips have been helpful and that you maintain your beautiful, healthy smile during 2017!
Give us a call today to schedule your next appointment.