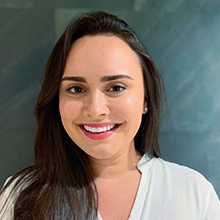 Finding the right dentist in Virginia Beach can take time. You probably want someone who is compassionate and can offer a high level of care. You likely also want an individual who is passionate about the field and can perform an array of services should you require more complex treatment in the future. Fortunately, at Smile by Design, you can entrust your smile with Dr. Madison Santos. As the newest member of the team and daughter to Dr. Stephanie Santos, she is equipped with the educational and professional knowledge to repair, restore, and improve your smile when you need it most. Read on to learn more about Dr. Madison and how she can help improve your oral health.
Meet Dr. Madison Santos
As an associate dentist in Virginia Beach, Dr. Madison Santos is following in her mother's footsteps by joining the team at Smile by Design. Completing her undergraduate degree at Virginia Tech, she went on to pursue her dental degree at Virginia Commonwealth University.
Currently a member of the American Dental Association, she looks forward to pursuing advanced training in cosmetic dentistry and dental implant placement.
Her passion for dentistry and being able to help improve the smiles of others is evident in her decision to come back to her hometown and embrace the mission and vision set forth by her mother, Dr. Stephanie Santos, and fellow colleague, Dr. Vinita Folck.
Why Choose Smile by Design?
At Smile by Design, you can expect to undergo a truly wonderful experience thanks to an outstanding team of hygienists, assistants, administrative staff, and three powerful and compassionate dental professionals.
Bringing individual experiences and expertise to the job every day, Dr. Stephanie, Dr. Vinita, and Dr. Madison are able to collaborate and provide patients with the safest, most comfortable, and effective solutions, each designed to improve and maintain optimal oral health.
A few reasons why you should choose Smile by Design include:
A focus on patient comfort – By using gentle approaches in an anxiety-free atmosphere, patients can expect to have a positive experience that works to minimize stress and pain.
A healthy balance of work and play – You don't have to worry about seeing a dentist who lacks personality or charm. Dr. Stephanie, Dr. Vinita, and Dr. Madison all enjoy laughing with our patients, so whether it's a funny joke or story, you can expect them to join in on the fun.
Available care for all ages – Whether it is you or your child who needs dental assistance, the team at Smile by Design offers available services for all ages.
A clear focus on improving patient satisfaction with advanced dental technology – Using the latest, most advanced dental technology, you can expect greater accuracy and precision as well as faster procedures and quicker recovery times.
At Smile by Design, you can find the solutions you need with the help of dental experts like Dr. Madison Santos! If you have questions, concerns, or would like to learn more about the team, don't hesitate to contact the office and schedule a visit.
About the Practice
At Smile by Design, our team of dental professionals listens closely to learn about your dental needs and determine how we can assist in helping you to achieve your desired results. Using a gentle and compassionate approach, you'll see that we provide high-quality dental care in a warm and welcoming environment. Dr. Stephanie Santos, Dr. Vinita Folck, and Dr. Madison Santos are here to ensure your smile is in good hands. No matter the type of treatment you need, you can entrust your smile to the most qualified professionals in Virginia Beach. If you are searching for a "dentist near me" and want to learn more about our available services, contact us at (757) 499-9639.