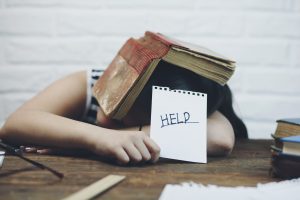 As an adult it's easy to make the mistake of assuming that children don't have any stressors. After all, they don't have to concern themselves with mortgage, car and utility payments. Their only job is to eat, sleep, go to school and play, right? Well, a trusted dentist in Virginia Beach is advocating for children, making it known that they stress about some of the same things that you as a parent do. And these stressors can have adverse effects on their dental care. There are some signals to be on the lookout for to help address this problem early.
7 Signs That Your Child May Be Stressed
Your child may display some of these symptoms, which should be monitored closely and acted upon.
Irritability and moodiness – If your child is more disagreeable than normal, with mood fluctuations, this may be a sign of stress.
Lying, bullying or defiance – These may be signs that your child is frustrated and not sure how to cope.
Abandoning longtime friendships for a new group of peers – Abrupt changes in friendship should not be overlooked, as children normally like to stay in familiar surroundings. So, if your child is leaving a determined comfort zone of established friends, this may be a sign of stress.
Physical symptoms such as headaches and stomach aches – Headaches and stomach pains are common responses to emotional disturbances.
Sleeping less or more than usual – Changes in sleeping patterns should definitely be monitored, as they can affect your child's hormones and moods ever more.
Sudden changes in eating habits – Children are normally pretty regimented, so a change in their eating habits should not be dismissed.
Unhealthy or regressive habits – Self-destructive behavior can sometimes represent frustration and your child's inability to communicate bothersome problems.
Negative Effects of Stress
The most prevalent problem is dental decay. It can lead to pain, multiple dental visits for fillings, and abscesses that result in abstractions. Studies show that stress has a direct effect on your child's physical health. So, when they have a bout salivary cortisols and cavity-forming bacteria increase in their mouths, compromising their dental health.
How to Help Your Child Deal with Stress
The most important thing to do is remain vigilant and pay attention. If you notice signs of stress be sure to talk and spend time with your child, and be a good listener. Encourage him to get adequate sleep and eat healthier. Also, seek help from a school counselor.
Finally, make sure to schedule wellness visits with the doctor and follow-up visits to the dentist. And continue to encourage your child to practice proper dental care, brushing and flossing twice daily.
You all will get past this tough patch. Remain positive and know that you have help from your family dentist in Virginia Beach.
About the Author
Dr. Stephanie L. Santos received her Bachelor of Science in Chemistry from Old Dominion University, and her Doctor of Dental Surgery from Virginia Commonwealth University. She belongs to the American Dental Association and the Spears Education Center Study Club. Dr. Santos practices at Smile by Design and can be reached for more information at her website.