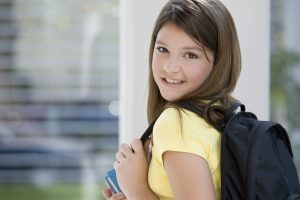 It's time for kids to head back to school! This means that parents are shopping for supplies, backpacks, clothes, and shoes. There are a lot of preparations to be made to get your children ready for school, and a dental cleaning and checkup are probably the last thing on your mind. However, did you know that tooth decay is the number one childhood disease? Your child isn't ready for school until they've had their cleaning and checkup with your dentist in Virginia Beach. Here's why you should schedule their appointment as soon as possible.
Avoid Missed Time at School
Your child's teeth may feel fine now, but problems can progress quickly, and in the dental world, they may not feel pain until the damage has already been done. Dentistry is all about prevention, and we can detect many issues early on at your child's routine cleaning and checkup.
Early detection allows you to treat any concerns with much less invasive procedures, and with quick easy appointments so your child won't miss any time from school. Get your appointment scheduled now to avoid time away from school.
If school has already started, we offer convenient after school appointment times for cleanings and checkups. If you're new to the area, Smile by Design is accepting new patients and we welcome children to our practice.
Additional Services for Children
Your family dentist in Virginia Beach may recommend some extra services that will help to strengthen and protect your child's teeth. Fluoride treatments help developing teeth to mineralize, while helping to remineralize teeth that have been damaged by decay. Dental sealants are a thin protective coating that goes over the chewing surface of your child's teeth to protect them from the acids and bacteria that cause tooth decay.
Fluoride can applied right after their cleaning appointment. Dental sealants are a quick and non-invasive procedure that can typically be completed during one short appointment.
If your child plays in sports activities, we can discuss the right protective wear to suit their needs. A custom fit mouth guard provides much better protection for their teeth and mouth than a one-size-fits-all model purchased at a sporting goods store. Many dental emergencies are a result of sports injuries, so it's important to determine the right mouth guard for your child with your dentist.
Contact Smile by Design
Give Smile by Design a call and get back to school dental checkups scheduled today! This is just as important as updating their immunizations, so please don't wait.