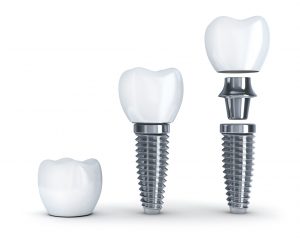 Believe it or not, tooth loss is a very common problem; therefore, the use of dental implants is also a very common procedure. The history of dental implants can be traced all the way back to ancient Egypt, our ancestors placed carved seashells or stones into jawbones for tooth replacements! The need to replace a whole tooth and not just the visible part (crown) is vital to maintaining the health of your jawbone and structure of your smile. Of course, our technology has definitely advanced since then. Now, Smile by Design can provide a dental implant in Virginia Beach, VA that has three functioning parts to replace a missing tooth in the most effective way.
What is a dental implant?
The first findings of dental implants were tracked in ancient times, and surprisingly, there has always been the underlying idea that the whole tooth (both above and below the gum line) needs to be replaced. Today, we're able to replace both the root (below the gum line) and the crown (above the gum line) of a dying or lost tooth, providing a great natural tooth alternative. Dental implants are composed of three critical parts to create comprehensive tooth replacement: the implant itself, an abutment attachment, and the dental prosthetic.
Titanium Implants
The actual implant is a small, screw-like titanium post that is surgically placed into your jaw bone in place of your missing tooth. This implant mimics your natural tooth, restoring the health of your jaw bone. Titanium is a metal that is biocompatible, meaning that your body can adjust to the metal easily with a process called osseointegration.
Abutments
The abutment is the portion of the implant that lies above the gum line. It supports and secures the dental prosthetic that will be attached as your visible tooth replacement. Normally, your dentist in Virginia Beach, VA will not attach this portion until your jawbone has fused with the titanium implant.
Dental Prosthetics
The prosthetic portion refers to the type of dental work that will be attached to mimic the visible portion of your tooth. Dr. Santos and Dr. Folck will be able to show off their impressive cosmetic dentistry by creating a dental prosthetic that blends seamlessly with the rest of your smile. Our dentists can attach these popular prosthetics for tooth replacement options:
Crowns and bridges—By attaching these restorations to implant posts, we're able to provide the same high quality, natural looking replacement solution without damaging surrounding teeth. A single crown or two attached crowns can typically be supported by a single dental implant.
Partial or full dentures—If you have more advanced tooth loss, your dentist may recommend attaching dentures to a few strategically placed implant posts. Regular dentures can slip or cause further jaw bone deterioration from being held by suction or adhesives, but with implants they will stay in place, eliminating those issues altogether.
Our team can help make your smile full again with our variety of restorative dentistry options. Contact us today! We look forward to helping patients regain their confidence and ability to speak and eat comfortably. Our caring, comprehensive office is in Virginia Beach, but we are happy to serve patients in surrounding areas as well!