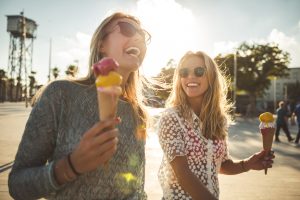 It's summertime, and from weddings and reunions to long nights under the stars, there are a million reasons to smile during July, August, and September. Your cosmetic dentist in Virginia Beach can help your teeth really sparkle this time of year with an in-office Zoom! Whitening treatment! This method of bleaching breaks through even the most stubborn stains, brightening teeth up to eight shades in just one, one hour appointment.
Who Is Teeth Whitening Good For?
Many patients can benefit from a professional teeth whitening treatment, as most people's teeth gradually darken or discolor over time. As we get older, the tooth enamel naturally becomes more brittle and less resistant to stains. People who drink lots of dark beverages, smokers, and those who have taken certain medications may notice especially significant discoloration. Insufficient oral hygiene (i.e. lazy brushing and flossing habits) also take a toll.
Zoom! Whitening is the leading solution for in-office tooth whitening. It's a perfect option for people who have a little more to spend on whitening, who are less prone to tooth sensitivity, and who are looking for the maximum results.
How Does Zoom! Whitening Work?
All whitening treatments are most effective when performed on clean teeth. If Zoom! is the best option for you, we will begin by removing all the biofilm (plaque and tartar) from the surface of your teeth. Once your smile is sparkling clean, we will begin by covering up your gums, lips, and anything else that isn't your tooth enamel with a special shield. The Zoom! formula is then painted directly onto the surface of each of the teeth that show when you smile. We will activate the bleach under a special light in three, 15-minute intervals. At the end of the third light application, the treatment is complete. We wash away the bleach, take off the shields, and then hand you a mirror to give you the first peek at your fabulous results!
The benefits of Zoom! Whitening from your dentist in Virginia Beach include:
Completed more quickly than other professional options

Breaks through even the toughest stains

Customized application protects your soft oral tissues from the bleaching gel

Results can last for long after the treatment
Maintaining Your Results
We know you will love your Zoom! results, and you'll want to make sure they last for as long as possible. To keep your teeth sparkling after the treatment, make sure to…
Maintain excellent oral hygiene, brushing and flossing as recommended

Drink dark beverages through a straw

Rinse your mouth out with water or brush your teeth after consuming dark foods/beverages

Chew sugar-free gum after meals or in the afternoon

Visit your dentist as recommended for checkups and cleanings

Use your touch-up kit if you notice your results are fading
Flash Your Brightest Smile This Summer!
Are you interested in revealing your brightest, whitest smile? Then it's time to learn about teeth whitening in Virginia Beach. We invite you to request an appointment today!