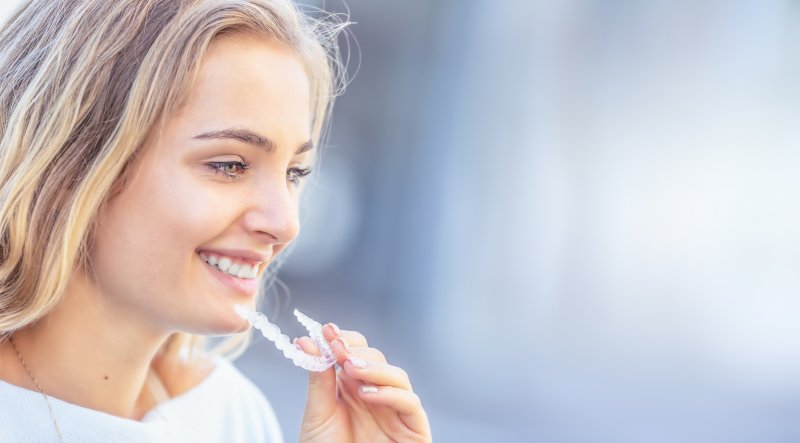 When you have your teeth straightened with Invisalign in Virginia Beach, you can expect an instant boost in confidence, but is that all you should look to accomplish? Can you also count on the procedure to correct your bite? As you continue reading, a local dentist answers that question so you can proceed with achieving a functional and attractive set of ivories!
How Does Invisalign Work?
Invisalign provides an alternative to the traditional method of straightening teeth with metal braces. Instead of brackets, wires and bands, Invisalign uses a series of clear-plastic aligners to apply precise and comfortable pressure to guide your teeth into their correct position. The process starts with the dentist using the latest in 3-D imaging to create a custom treatment plan. It's then forwarded to a certified Invisalign lab that will fabricate a complete series of aligners.
Once you retrieve the aligners from the dentist, which will be grouped into sets, you'll be instructed to wear them for at least 22 hours a day. To stay on track with the treatment schedule, you'll wear each set of aligners for two weeks and then exchange them for the next pair in the series.
What to Expect from Invisalign
Invisalign is far more than just a form of cosmetic dentistry. Just like traditional braces, it can correct bite misalignment, gaps, crowding and crookedness. By addressing these issues, it also offers the following benefits:
Prevention of enamel wear
Improved digestion from the even bite it creates
A lesser chance of developing painful TMJ disorder, which is the inflammation of the joint that opens and closes the mouth
Determining Your Eligibility for Invisalign
To ensure your treatment is successful, which includes achieving a beautiful and functional set of teeth, your dentist will perform a careful examination before the Invisalign process starts. He or she will check for any signs of cavities, gum disease or other problems, so they can be addressed before your bite correction gets underway.
Additionally, your dentist in Virginia Beach will consider the severity of your malocclusion (bite imbalance) to determine whether Invisalign will be the best choice for you. To get the process started, all you have to do is visit for an initial consultation and assessment. If you're a good fit for Invisalign, a plan of action will be formulated for you to achieve the results you've always wanted!
About the Author
Dr. Stephanie Santos earned her dental degree from Virginia Commonwealth University. Even after several years of providing top-notch care, she's still eager to learn more and further hone her skills. Thus, Dr. Santos maintains membership with the Spear Education Center Study Club. She understands how important it is to have a smile that is as functional as it is attractive. To help patients achieve both, Dr. Santos provides Invisalign treatment at Smile by Design, and she can be reached for more information through her website.