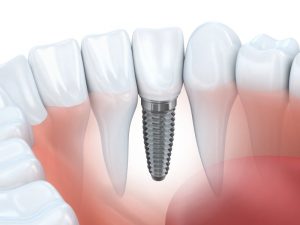 Dental implants are relatively new to dentistry compared to some other treatment methods for replacing teeth. Regardless, they've made very significant strides after being introduced to dental practices around the world. Some of the very first uses of dental implants can be traced back thousands of years. Today, there are entire institutions of higher learning dedicated to the practice of placing dental implants.
Considering how functional and aesthetically pleasing dental implants in Virginia Beach are, it's no surprise your dentist is talking about them. Keep reading to learn how implants got their start.
The First Use of "Dental Implants"
When it comes to replacing teeth, people sure used to get creative. Everything from bamboo, copper, and iron to jade, sea shells, and even animals' and other humans' teeth were used to rebuild smiles. One of the first discoveries of what we would call "dental implants" today was found in ancient China about 4,000 years ago.
For the most part, dental implants were more useful post-mortem. They would be placed in those deceased to help restore their appearance during burial. Receiving a dental implant while still alive would have been extremely painful. In cases where they did place implants while still alive, it often resulted in infection and rejection of the implant. Back then, the biggest roadblock to successful dental implants was making them last. It wouldn't be until the late 19th century that scientists would start experimenting more heavily.
A Major Modern Advancement
In 1886, a doctor placed a platinum disc into a patient's jaw, followed by a porcelain crown on top. Unfortunately, this still yielded a poor result. Without osseointegration, the process in which artificial materials integrate with bone, dental implants would continue to fail.
In wouldn't be until 1952 when Dr. Per-Ingvar Branemark of Gothenburg, Sweden accidentally found the special properties of titanium. The orthopedic surgeon found that a titanium cylinder he had placed in a rabbit femur was unremovable after it had successfully integrated into the bone.
In 1965, Dr. Branemark placed a titanium dental implant into a live volunteer for the first time ever. While it took several years to convince the medical and dental establishment that titanium could be used to anchor artificial teeth, he got a big break in the 1970s when Sweden's National Board of Health and Welfare approved the use of Branemark's implants. In 1982, he made the case for osseointegration at a professional meeting in Toronto, resulting in widespread recognition for his work and use of materials.
Today, titanium dental implants in Virginia Beach are used in both medical and veterinary applications. They are durable, functional, and extremely effective at replacing teeth. If you're considering dental implants to rebuild your smile, schedule an appointment with your dentist in Virginia Beach today!
About the Author
Dr. Stephanie L. Santos earned her Doctor of Dental Surgery degree from the Virginia Commonwealth University. After completing an advanced education in General Residency and serving as an army dentist for three years, she joined the ADA and the Spear Education Center Study Club. To learn more about dental implants or about her practice, contact her at (757) 499-9639 or visit her website.