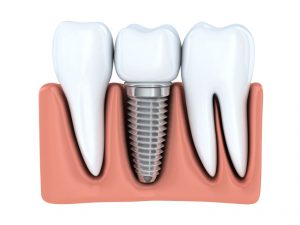 Living with one or more missing tooth affects more than just your confidence. Your diet and nutrition may also be impacted because you can't properly chew and eat the foods you would normally enjoy. Your oral health is also at risk. Without a tooth replacement, your bone will start to lose density, or deteriorate, and your remaining teeth will begin to shift into the open space. Dental implants may be the right solution for you, and your team at Smile By Design can help! Here are the benefits of dental implants in Virginia Beach.
What is a Dental Implant?
A dental implant is by far the most successful tooth replacement option that dentistry has to offer. The secret to its success lies in the fact that an implant replaces both your root and your tooth. A biocompatible titanium post is surgically placed into your bone to take the place of your root, and a porcelain crown takes the place of your tooth. This protects the integrity of your oral health and closely mimics your natural tooth.
What are the Benefits of Dental Implants?
Besides restoring your oral health, a dental implant also restores the natural look of your teeth. This is because your new crown is custom designed to complete your smile and match your existing teeth. You'll also enjoy the same function you had with your natural tooth, as you'll be able to eat and chew like you used to.
Brushing and flossing your implant is also not a problem, making it very easy to care for. It's one of the most cost effective investments you can make in yourself because with the right home care and regular check ups, your dental implant can potentially last for a lifetime.
Am I a Candidate for Dental Implants?
Implants work well for most patients, however they do require two things in order to be successful:
That the patient is in good overall health
Enough healthy bone structure to support the implant
At Smile By Design, Dr. Stephanie Santos and Dr. Vinita Folck can determine if implants are right for you with a thorough examination and x-rays. Implants typically work well for most patients, and if you don't have enough bone structure to support it, a bone graft can help rebuild your jawbone.
Don't waste any more time living with missing teeth! Contact our office today to learn more about dental implants.