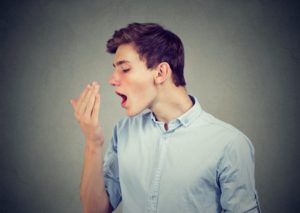 Imagine you're meeting with someone important, someone like your intimidating boss or a blind date. You want to impress them, but then you realize that you have bad breath! In fact, maybe you have bad breath more often than you should. If you do, now is the time to do something about it, so you're ready for those important moments in life.
What causes bad breath?
We all occasionally eat garlic or onion with lunch. Bad breath from food every once in a while is normal, but experiencing this condition on a consistent basis could indicate more serious conditions and should not be ignored. Here are some of the more common causes of bad breath:
Bacteria in plaque and tartar on your teeth
Smoking or chewing tobacco
Excessively dry mouth
Cavities
Poor cleaning of dentures or dental appliances
It's also important to remember that bad breath can also indicate a more serious condition, such as gum disease, diabetes, chronic acid reflux, liver or kidney problems, and much more.
How do you fix bad breath?
The good news is that bad breath can be addressed. Besides using mints or gum, which will only temporarily mask the smell, these suggestions may be helpful:
First and foremost, maintain proper oral hygiene. Brushing and flossing every day keeps odor-causing bacteria from ruining your breath. Also, use an antibacterial mouthwash to help reduce the bacteria in your mouth. If you wear dentures, make sure they are cleaned properly before reinserting them.
Every six months, see your family dentist in Virginia Beach for a checkup. Not only will you get the benefit of a cleaning, but you'll also have the opportunity to discuss your concerns with the dentist and have an oral exam. If you do this, together you should be able to detect and address your bad breath and oral health concerns before they evolve into a serious problem.
If you smoke or chew tobacco, quit. You can ask your dentist or medical provider for top tips on breaking this bad habit.
Make sure you drink lots of water, which helps flush out some of the food particles and bacteria. Sugar-free chewing gum also helps you produce saliva to wash them away.
Keep track of the food you eat and the medicines you take and discuss them with your dentist. Some medicines can cause dry mouth and lead to bad breath and other dental problems.
As embarrassing as it may be to admit that you have bad breath, it's better to talk about it with your dentist and address the problem than to suffer silently and perhaps experience worse problems later. Meet with your dentist today!
About the practice
Smile by Design has two talented, compassionate dentists—Dr. Stephanie Santos and Dr. Vinita Folck. Dr. Santos has owned and operated Smile by Design for more than 13 years, and Dr. Folck has over 14 years of dental experience. Both strive to make dental appointments as pleasant and stress-free as possible for their patients, and you are welcome to call and discuss any questions or concerns you may have. You can contact them by calling (757) 499-9639 or clicking here.