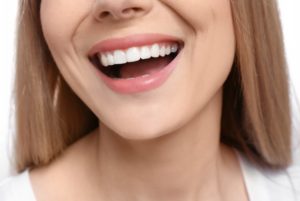 2019 is full of potential. It might be the year you meet that special someone, earn a well-deserved promotion, or meet your fitness goals. Why not also make it the year when you finally fall in love with your smile? If your crooked teeth make you cringe, now is the perfect time to visit your dentist to talk about Invisalign in Virginia Beach. You could begin to see the results of your treatment in just a few months!
How Invisalign Works
Your teeth are attached to the surrounding bones via tiny ligaments, which allow the teeth to have a natural capacity for movement. Invisalign takes advantage of that by applying gentle, sustained pressure to the teeth. You wear each clear, custom-made aligner for 20 – 22 hours each day for about two weeks before you graduate to the next aligner in the series. Each time you switch to a new aligner tray, your teeth get a little closer to their ideal positions. Many patients begin to notice results in just a few months, but the average total treatment time is roughly one year.
Advantages of Invisalign
If you've been holding off on getting orthodontic treatment because you don't want to put up with the hassle and ugliness of traditional braces, Invisalign may be perfect for you! The aligners aren't totally invisible, but they are discreet enough that you won't have any trouble maintaining your professional image.
Other advantages of Invisalign include:
Since the aligners are removable, there are no food restrictions. You simply take Invisalign out of your mouth at mealtimes. After you're done eating, rinse your aligner and give your teeth a quick cleaning before you put your aligner back in.
Invisalign's removable nature means you can brush and floss your teeth as normal; you won't have to spend a lot of time navigating around a bunch of brackets and wires.
Invisalign checkups are very short, so you won't have to worry about setting aside huge blocks of time when your dentist needs to check on your treatment's progress.
Is Invisalign Right for You?
If you would like to use Invisalign to correct your crooked, gapped, or otherwise misaligned smile, schedule a consultation with your dentist in Virginia Beach. They'll evaluate the extent of your orthodontic problems, discuss the pros and cons of Invisalign with you, and help you determine whether this treatment is a fit for your circumstances. If it looks like Invisalign is right for you, your dentist will take images and impressions of your teeth and send that data to the Invisalign lab so they can get started on creating your custom aligners. In just a few weeks, you may be on the path to a straighter, healthier smile!
About the Author
Dr. Stephanie L. Santos is one of two talented dentists in our practice. She loves to establish trusting relationships with her patients, and she derives great satisfaction from helping them gain healthier, more attractive smiles. If you would like to talk to Dr. Santos about Invisalign, contact our team at 757-499-9639.