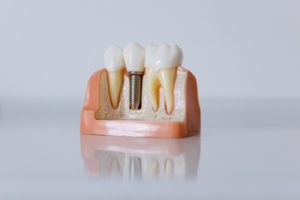 Bridges, partials, and dentures have been standard treatments for missing teeth for generations, but over 500,000 people every year are breaking from tradition by using an alternative solution. Dental implants are the most reliable method of replacing lost teeth. A dental implant is unlike any other treatment because it replicates both the root and the crown. Not only does this provide exceptional benefits not possible with previous options, but the dental implant success rate is over 95%. Here are 5 secrets behind the most successful choice for tooth loss.
1. Titanium Implant Posts
Researchers have found evidence of ancient civilizations hammering foreign materials into jawbones to replace lost teeth. However, it wasn't until a Swedish surgeon discovered titanium's biocompatibility in the 1950s that dental implants became successful. He found the material integrates with the human bone through a process called osseointegration, allowing an implant post to potentially stay in place for a lifetime.
2. A Healthy Jawbone
The overall success of a dental implant relies on a healthy jawbone. There must be sufficient bone density to support the post, which is why you'll need a CT scan before getting dental implants in Virginia Beach. Your dentist will use the images to look for any issues not visible from the surface, like infections or bone loss. They'll also use the scan to pinpoint the precise locations for your posts to take the guesswork out of the process.
3. Good Oral Hygiene
A dental implant is proven to last for 30 years or longer, but various factors affect their lifespan. A good oral hygiene routine is essential for long-term success. Brushing twice daily, flossing nightly, and using a mouthwash will keep your smile healthy.
4. Healthy Lifestyle Habits
The risk of dental implant failure is rare if you have healthy lifestyle habits, like not smoking or drinking alcohol excessively. Your dentist will also recommend breaking any bad habits, like using your teeth to open a bag of chips or chewing on your fingernails when you're nervous.
5. Regular Dental Care
Besides caring for your new smile at home, don't forget to visit your dentist every 6 months for a cleaning and checkup. Routine dental care allows your dentist to monitor your oral health to detect any concerns before they turn into a big problem, like gum inflammation. If you develop any issues in between your regular appointments, contact your dentist right away, like red, swollen, or bleeding gums.
Replacing lost teeth is a big investment. Don't settle for anything less than the best. Dental implants are supported by decades of success. You'll have peace of mind knowing your new smile is going to last for a lifetime.
About Dr. Stephanie L. Santos
Dr. Santos achieved her dental degree at Virginia Commonwealth University and then completed advanced education in general dentistry. As a lifelong learner, she regularly pursues continuing education to provide the most up-to-date services, like dental implants. If you're ready to replace your missing teeth, contact our office today to request your consultation for dental implants.